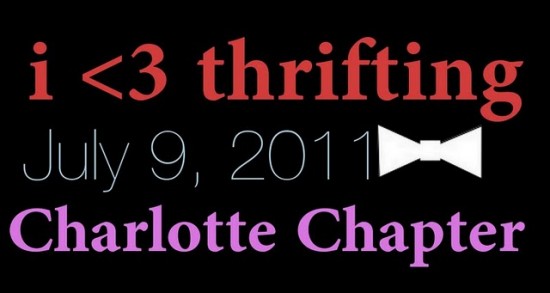 This Saturday, there's a big thrifting event going on all. across. the. country.
AND YOU DIDN"T KNOW ABOUT IT?!?!?!?!?!?!?!??!
😉
Yes, don't worry. It's really okay if you haven't heard about it. That's why I'm telling you now.
So this guy, Mr. Goodwill Hunting (aka Rashon) is big on thrifting. He's been on The Nate Show talking about it and doing challenges. He finds awesome stuff on the cheap and has the ability to put that cheap, awesome stuff together to make one amazing room. Anyway, he started this big old thrifting meet-up with locations all across the country.
Check here to see if your city is participating.
Mr. Goodwill Hunting, along with the Nester, are attending the "Charlotte Chapter" of  i <3 thrifting and it just happens to be at the Habitat for Humanity ReStore located at 1133 Wendover Road.
I'm going.
Are you?