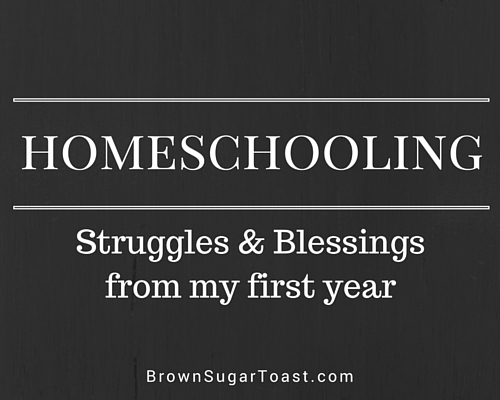 Back in August, I mentioned that I was embarking on a brand new journey. Specifically, the journey of homeschooling.
As you may remember from my initial post, the most prominent emotion at the beginning was fear. God gave me a verse that really helped me harness my thoughts during those first days and here we are now – our very first year of homeschooling in the books.
I'm planning to do a post in the next week detailing the materials we used during Anna Grace's kindergarten year, but today I want to write out specific struggles and blessings from my first year as a homeschooling mama. I have a feeling they might sound familiar to you if you teach your kiddos at home. Maybe it will be an encouragement knowing that someone else has the same struggles as you? Here goes: 
Homeschooling with preschoolers underfoot
This was undoubtedly one of the toughest parts of homeschooling this past year. We began the school year with a 1 and 3 year old as our sidekicks. Sidekicks who were not always a fan of the learning process, by the way. There's this elusive picture of being able to read to all of your children at the same time, thereby allowing the younger ones to simply "pick up" lessons as they listen to their older sibling's material.
Perhaps I should have tried benadryl.
I'M KIDDING. STOP FREAKING OUT.
You can clearly tell that the scenario of homeschooling my 5 year old with my 1 and 3 year old quietly gathered around was not reality in my home. Sometimes my boys would sit on my lap when I was reading an especially interesting story to Anna Grace. And I did discover they both picked up quite a bit from hearing her routinely quote catechism answers. But for the most part, it was Anna Grace and I working at the kitchen counter while the 2 boys romped around the house. I mean, while they played quietly building impressive structures out of all natural, ethically made building blocks and never once fighting or yelling at each other. Of course not. After all, we aren't human or anything.
One mama friend shared that she sometimes put her youngest in the bath and let him play while she taught her older ones. Brilliant. I did that many times. My boys absolutely loved it, Anna Grace and I were able to have some quieter learning time, and I got a clean bathroom floor at the end of the experience. After I mopped up the water, of course.
Bottom line of this struggle: Homeschooling with littles underfoot is tough. But it's definitely doable and – dare I say – even enjoyable at times. I involved the boys when possible and attempted to provide them with other activities (benadryl guzzling contests) when they just needed to get energy out of their little systems.
Let's be clear: I'm talking about the sinfulness of the teacher, not the student. Oh for sure, there's a sin nature in any student. And as a parent, it's certainly something I am called to work through lovingly, prayerfully, and consistently. But one of the biggest struggles of homeschooling this past year was not my student's sinfulness, but my own. I'm looking at you impatience and selfishness.
There's something about sitting down with your child, explaining a concept to them in (what you think is) a perfectly understandable way, and having them not understand that does something to the blood pressure.
It's an odd correlation, I realize. But it happens. I'm living proof.
Sometimes these situations called for an impromptu break time in which I went to my room to confess my sin & plead for strength. And then they finished off with asking my daughter for forgiveness and attempting to explain the concept in a different way.
Bottom line of this struggle: The Lord always gave grace. Grace for the teacher, the student, and our relationship. Actually, we had some really sweet times and conversations about our desperate need for Jesus through it all. There goes our redemptive God – redeeming what looks to be an impossibly ugly situation into something beautiful.
Oh, this was one of my biggest blessings of homeschooling. I mean, sure, it was a challenge at times. But such a far greater blessing than it was a struggle. Especially when I stopped being selfish about my personal time and focused instead on the immense privilege I had to educate my daughter. I regularly found myself giving thanks to the Lord and texting my husband about little blessings from the day. Seeing Anna Grace read her first words, sentences, and books. Working to figure out her learning style and seeking to explain things in a way that made sense to her. Watching the light click on as she understood something in math. Hearing her talk about what she was excited about in history.
Bottom line: All these moments are gifts to me as a mom and teacher. It takes work, yes. But what an absolute gift.
Determining our curriculum
Curriculum. I spent many hours laboring over the decision of what materials to use. And we're just talking kindergarten here, folks.
I read a blog post that said something about how choosing curriculum was the fun part of homeschooling and I thought, "THE FUN PART???? I have no clue what you're talking about!"
Despite the angst I put myself through in the choice of materials, I absolutely loved the ability I had to choose what Anna Grace and I would study together for her kindergarten year.
Bottom line: Both the struggle and blessing lay in this fact: the choice was all up to me. But seriously, what a privilege to be able to consider my daughter's interests and learning style when choosing materials!
This school year, I'll get to experience homeschooling with a newborn. I have no doubts that will present a large learning curve. I would panic and begin hyperventilating except for the fact that I am absolutely certain I can trust God to help me through the changes. It kinda changes everything when you view life through the grid of God's truth, doesn't it?
Grace upon grace, y'all. Grace upon grace.
have you ever participated in the journey of homeschooling? what were your biggest struggles/blessings?
I'd love to hear from you in the comments!