Take care, brothers,
lest there be in any of you an evil, unbelieving heart,
leading you to fall away from the living God.
Hebrews 3:12
Do I have a hard heart?
For that matter, how do I know whether my heart is hard or tender?
As I study the book of Hebrews, God is teaching me the dangerous nature of a heart hardened with unbelief. Through His Spirit, He's also revealed hardness in my heart. It is rightly sobering to consider the effects of a heart hardened with unbelief, for without belief we cannot please God. (Hebrews 11:6)
Because of the grave warnings in Hebrews and the Lord's conviction in my heart, I want to take practical measures to keep my heart tender towards God. One of those steps is the heart check below. As I asked the Lord to soften my heart to His Word and the work He's doing in my life (as well as in people around me), He brought the questions below to my mind and I scribbled them down on the side of my Bible study book. I've prayerfully brought these questions before the Lord and asked Him to give me a heart that is tender to believe.
These 4 questions aren't intended to be answered quickly or with one-word answers, but require time, prayer, and thought. Join me as I ask the Lord to search my heart, try my thoughts, and reveal the hardness that lies below the surface.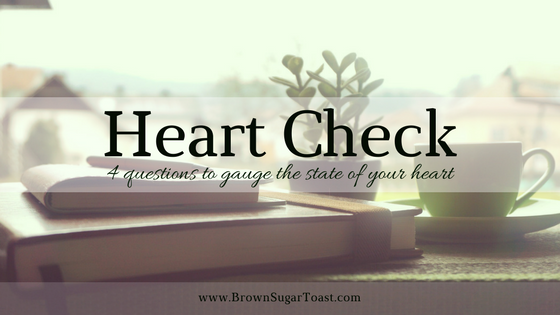 4 Questions to Gauge the State of Your Heart:
1. What is my response to God's Word?
Every time it is proclaimed, whether it's a speaker I like or not?
Whether it's texted, spoken, or posted on social media?
Do I run to it and welcome its' influence in my heart?
Do I stiffen because it wasn't presented in the way I think it should have been?
2. What is my response to correction?
Whether it's presented in a way I deem appropriate and gracious or not?
Whether it's true or not?
Do I respond with an immediate defense?
Do I complain about the injustice to those around me?
Do I take it to the Lord and ask Him to search my heart?
3. What is my response to my problems?
Do I believe God is at work? Do I believe He's still on the throne?
Do I panic? Worry? Respond in anger?
Do I trust God to bring resolution?
4. What is my response to other people & their problems?
Do I turn my face away?
Do I respond with compassion?
Do I ask questions or assume answers?
Do I pray for them?
Do I stop to consider the needs and how God may want me to meet them?
---
There is a host of other questions one could include in this list. But for my purposes, I wanted to zero in on my response to God's Word, my reaction when corrected, and my thoughts when confronted with problems—whether mine or others'.
I trust these questions will be useful as you pursue a heart that is tender towards God.
"Exhort one another every day,
that none of you may be hardened by the deceitfulness of sin."
Hebrews 3:13