I've been on a chickpea kick lately. Just ask my husband. He's been subjected to all sorts of variations of chickpea recipes in the past few months.
It all started with some hummus I ordered at Zoe's Kitchen. "Yum" only begins to describe it. I was pregnant at the time and thought about that hummus many times after I had my first bite. I think I might have dreamed about it. Probably not. Hopefully not.
I decided to make my own hummus and searched for a recipe on the good ol' internet. I still haven't found one as good as the one at Zoe's, so if you have a great one, I'd appreciate it if you would share! The one I tried had too much lemon juice in it. I ate it anyway.
But I had to go further. Of course.
I found a recipe for some Chocolate Chip Cookie Dough Dip from Pinterest. Being the good girl I am, I decided to make it. Maybe it would have tasted good if I didn't know there were chickpeas in it? I don't know. I only know that I didn't want to throw it out and waste it. So I let it get moldy in my fridge and then threw it out. Bad Christa.
So while I was browsing through my recipe binder, my eyes fell upon a new recipe involving chickpeas. SOLD.
Hello gorgeous: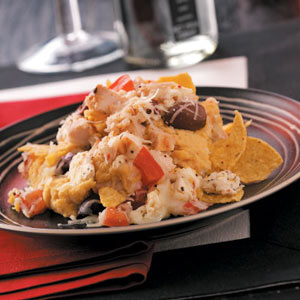 Seriously. Does that not look fabulous? It starts with a layer of chickpeas blended with Italian dressing. Then you alternate cubed chicken, tomatoes, greek olives, chips, mozzarella, and feta.
It is fabulous indeed. I think I had 3 servings. I justified it by the fact that I was hungry and the nachos were filled with good things – not just processed orange cheese (which I also happen to eat. I am a youth pastor's wife after all.)
I found the recipe from my Simple & Delicious magazine. Just like the fish sandwiches I shared with you last week. I'm on a roll with getting new and yummy recipes from those magazines!
You can find the recipe for Greek Chicken Nachos here.
Eat and enjoy.