My Grandma always had some of the best food.
Of course, there were always Oreos in the pig-shaped cookie jar, peppermint patties in the candy jar, and ice cream bars in the freezer. Sometimes there were ice cream bars in the shape of Mickey Mouse.
And we could drink Orange soda and eat barbecue chips in the summer during our break from swimming. I confess, I never really liked barbecue chips. I just ate them because I thought my cousin liked them. And we had to be the same in everything. Truthfully, I don't think she liked them either.
But besides all the packaged food, Grandma always made the best food. Cookies, Whimpies (aka Sloppy Joes), Pies, Swedish Meatballs, Spam sandwiches…
O wait, I didn't like those. Spam – finely ground with a food processor. Add mayonnaise + relish. Slather on bread. Eat. Try not to go on a tilt-a-whirl at the local amusement park (Knoebels) afterwards. Yikes.
One of my favorite dishes was her Ham & Potato Casserole. Soft potatoes, chunks of salty ham, green peppers & onions – with a creamy sauce throughout. Comfort food at its finest.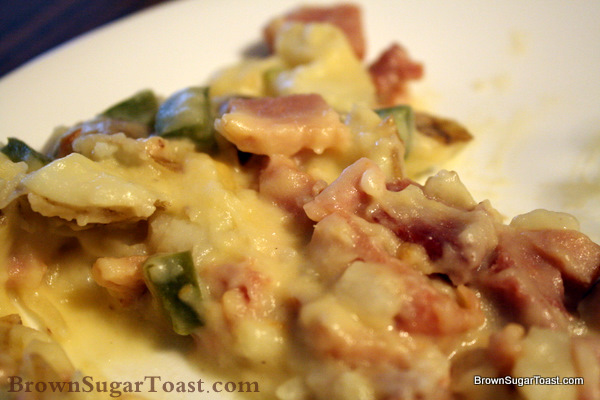 I now present to you the recipe for one of Grandma's best…
Ham & Potato Casserole
Ingredients:
1/4 cup chopped green peppers
1/4 cup chopped onion
1 Tblsp. oil
2 cups diced, cooked ham
3 cups diced, cooked potatoes
1/4 cup mayonnaise
1/4 tsp. salt
3/4 cup milk
1 Tblsp. cornstarch
1 cup cheddar cheese
Preheat oven to 350 degrees.
Saute green peppers and onion in oil. Mix with ham, potatoes, mayonnaise, and salt.
Pour into a greased casserole dish (or 9×13 pan).
In small saucepan, combine milk and cornstarch. Heat until thickened.
After thickened, add cheese.
Pour over ham & potato mixture.
Bake for 30 minutes.
Now, take a bite and tell me that doesn't taste like Grandma's home cookin'?
Comfort food at its finest – for sure. This is one instance where I'm so very thankful for leftovers.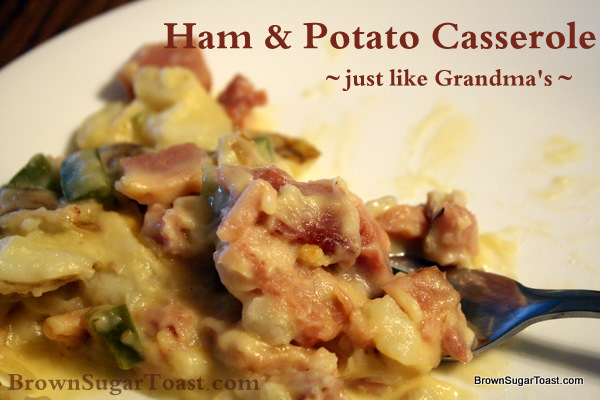 Linking up to:
http://itsablogparty.com/