In case the plethora of advertisements hasn't hit you yet…2 weeks from Sunday is Mother's Day.
The stores would have you believe that Mom will not be happy without a card, chocolate, jewelry, clothes, and of course…eating out. Oh wait. I forgot to list flowers. Better throw that in there for good measure.
In reality, a lot of Moms would probably just want to be told they are a good Mom and that what they have done/are doing matters. (Have you seen that Hallmark "Tell me" commercial? I think it's pretty cool.)
In honor of Mother's Day, I contacted the publisher for one of my favorite books, Feminine Appeal by Carolyn Mahaney.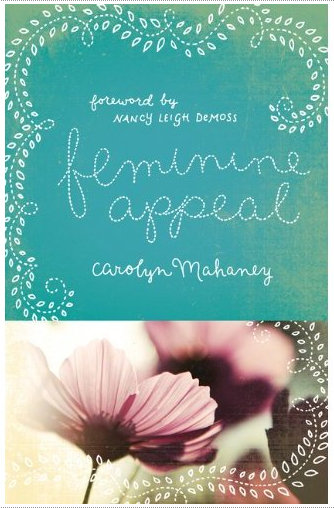 This book is not only for mothers. It is written primarily for women, so if you're a guy, you might want to just pass it on to your mom/wife/girlfriend/lady-on-the-street.
Each chapter is devoted to a virtue found in Titus 2:
The delight of loving my husband
The blessings of loving my children
The safety of self-control
The pleasure of purity
The honor of working at home
The rewards of kindness
The beauty of submission
Ideally, every young lady would have an older woman teaching her the truths of Titus 2. But since we do not live in an ideal world, I'm thankful for books like Feminine Appeal.
In honor of Mother's Day, one of you will win your very own copy of Feminine Appeal. All you have to do is comment below.
Here are the details:
to enter: leave a comment on this post.
bonus points: tell me 1 word you would use to describe your Mom.
extra points: "like" Brown Sugar Toast on facebook and leave me another comment (or if you already do, just tell me that in the comments). you can also get extra entries by following on Twitter, Google +, or giving me pineapple.
open to: anyone in the USA.
giveaway ends: Thursday night, 5/3/12, at 11:59pm EST.
what you win: 1 copy of Feminine Appeal.
details: winner chosen via random.org & announced next Friday, 5/4/12.