Yesterday I cruelly showed you a picture of some amazing and glorious food without telling you what it was or how you could make it.
I hope you've forgiven me by now.
If not, just wait one moment and you will presently have a reason to forgive and forget.
This ring a bell?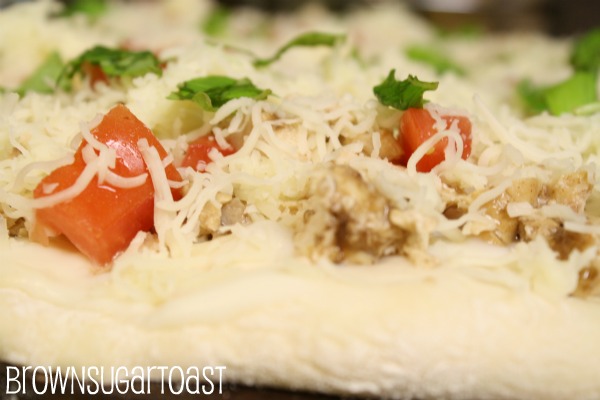 Ahh yes. That was Monday's lunch. Well, part of it anyway.
Remember when I shared my homemade pizza crust recipe with you? The bottom part of the picture is said pizza crust. Today I'm going to share a recipe for what I put on top. Namely – Garlic White Sauce.
I got the recipe for this sauce from my dear sister, Sarah. I don't know where she got it, but evidently it was from some nice person who also happened to be a good cook. Or maybe it was smuggled out of a famous pizza restaurant. All I know is that I have it in my possession now and am about to pass it on to you.
It tastes like a creamy garlic alfredo sauce. Super yum. Here it is:
Garlic White Sauce
4-5 cloves garlic, finely chopped
1 Tblsp butter
1 tsp salt
3 Tblsp flour
1 cup milk
Melt butter in a small saucepan. Saute garlic. Add salt and flour. Stir over medium heat until hot and bubbly. Gradually add in milk (start with 1 – 2 Tblsp at first) and mix thoroughly to avoid lumps. Once all milk is added, heat for 3-5 minutes until sauce has reached desired consistency. Immediately spread over pizza crust, top with toppings, and bake. (If you're using my recipe for pizza crust, bake at 450 degrees for 15 – 20 minutes.)
That's it! Easy and so worth it. You may want to add more garlic and/or salt based on your preferences.
Now, here's my pizza from a little more of an aerial view: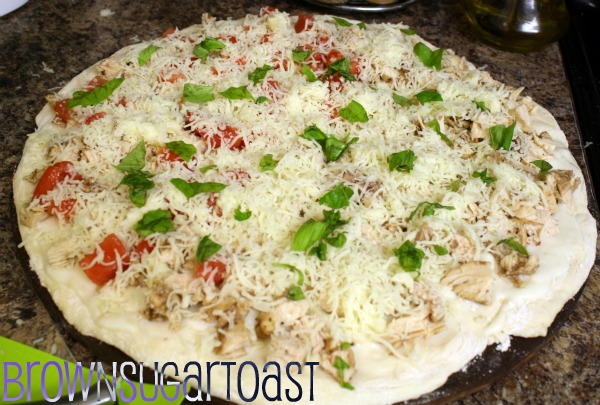 I topped it with garlic sauce, chicken (pre-cooked with balsamic vinaigrette), tomatoes (only on 1/2 because I didn't have enough to go on the whole thing), italian-mix cheese, and fresh basil.
It. was. yum. My hubby and I both loved it. I think next time I will add a bit more salt to the sauce, but other than that – perfect. 🙂
Give it a try for dinner tonight! You can add whatever toppings float your boat – these are just the ones that floated mine, but I'm all about experimentation. Have fun with it!
~Christa