Well, hello there! I hope you all had a very wonderful Valentine's Day and were able to share your love with others.
Last week, I shared a yummy soup recipe with you and mentioned that I made an herb bread to go along with it. Today, I think I'll let you in on my herb bread secret. 🙂 Have you ever had bread with herbs in it? If not, please don't be turned off by it! It is soo sooo yummy! This combination of herbs is perfect and so savory.
My favorite way to eat it is hot out of the oven with a little butter smeared on top. wow…I can almost taste it!!!
Let me do a little meal pairing for you… this bread is perfect with cauliflower soup or tomato soup. I recommend serving it alongside a main dish that doesn't have a lot of herbs or spices in it. (Or, if you choose to serve it with an "herb-y" dish, might I suggest a dish with Italian herbs rather than, say… curry or sesame chicken.)
Behold the beauty: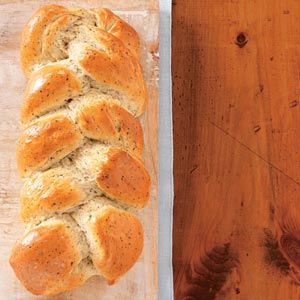 ahhhhhh…isn't she gorgeous?? Now, before you say, "that looks ridiculously hard" and decide to crack open pillsbury french bread, let me say…it's easier than it looks. this is one of those things that's impressive, but not super hard either. Here's what you'll need to make it:
4 to 4-1/2 cups all-purpose flour
3 tablespoons sugar
2 packages (1/4 ounce each) quick-rise yeast
2 teaspoons dried basil
1-3/4 teaspoons dill weed
1-1/2 teaspoons salt
3/4 teaspoon garlic powder
3/4 teaspoon dried rosemary, crushed
3/4 cup 2% milk
1/2 cup water
1/4 cup butter, cubed
1 egg
1 tablespoon butter
Directions
In a large bowl, combine 1-1/2 cups flour, sugar, yeast and seasonings.
In a small saucepan, heat the milk, water and cubed butter to 120°-130°. Add to dry ingredients; beat just until moistened.
Add egg; beat until smooth. Stir in enough remaining flour to form a soft dough.
Sprinkle some flour on a counter and dump the bread on top. Knead for 5-ish minutes, or until smooth. Cover and let rest for 15-30 minutes. (I usually err on the longer side of resting. Partially because I like my bread to rest a lot and get big. Partially because I get side-tracked with either a project or child. ;))
Divide dough into thirds. Shape each into a 15-in. rope. Place ropes on a greased baking sheet and braid. (This is the most fun part! Seriously, it's just like braiding hair.) Pinch ends to seal and tuck under.
Cover and let rise until doubled, about 25 minutes. (Again, I usually let it rise a bit longer, sometimes up to 45 minutes.)
Bake at 375° for 15-20 minutes or until golden brown. Take your 1 Tblsp butter and rub it all over the top of the bread until there's a tasty glow in every nook and cranny.
This usually goes straight onto a cutting board for us. None of this "cool on wire rack" stuff for our family. No sirree, all that goodness is best when it's HOT and FRESH!!!
Can I recommend this delightful morsel anymore? Please, give it a try! I am 99.9% sure you will adore it. Let me know if you do – I'd love to hear your thoughts…
~Christa
The recipe is from my Simple and Delicious magazine and can be found here. I made several revisions to the directions as to what has worked the best in the maaaaaaaany times I have made the recipe. Love it.