Would you like to know the mark of a good friend?
Someone who helps you gain 5 pounds by giving you a great recipe.
The mark of a great friend is someone who helps you gain 5 pounds by giving you a great recipe – already made. 😉
haha – I kid. sorta. 🙂
My sister shared this great recipe with me last week that I just had to try. I mean, with a name like "Caramel Fudge Brownies" – what's not to love?
I had to come up with a good excuse to make them, so I decided to make a batch for our moving help this past Saturday. Good idea.
The first sign that I had made the right decision was this: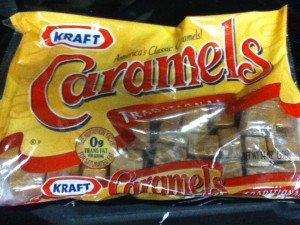 Yessirree, that whole bag goes in the brownies.
I die.
I love those things. Never buy them, but love them.
You have to unwrap them all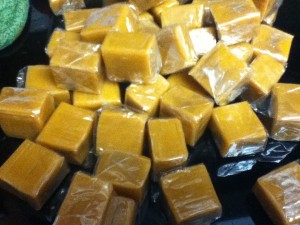 which results in a lovely, crinkly pile like this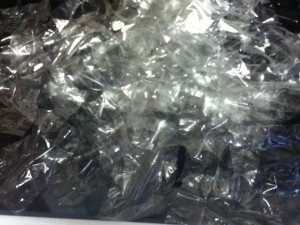 and then you melt them in a pan along with a can of sweetened condensed milk.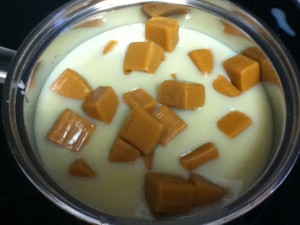 Doesn't that look simply delightful??? It is, I tell you.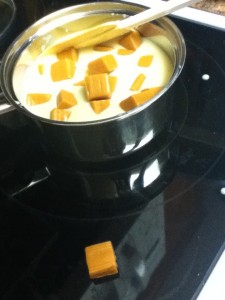 Oh my. What's that? An escapee caramel? You can't escape without paying a price. Make that a whole bag – minus 1 (or maybe 3).
Heat until the caramels and milk begin to meld and look like this: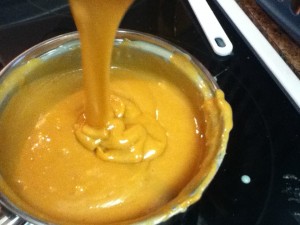 Ooooohhhhh, come to papa….
Start mixing your brownie batter while the caramel is cooling. I don't normally make desserts in pans, but alas, my mixing bowls were already packed and gone, and I was not about to go get them. This skillet-type pan worked like a charm. 🙂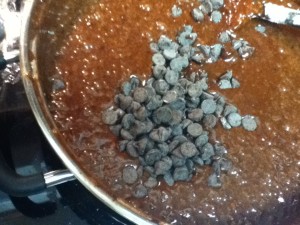 Pour part of the brownie batter in a greased pan and bake for about 15 minutes. Then pour the caramel on top of the baked brownie. Add the remaining brownie batter and swirl before baking.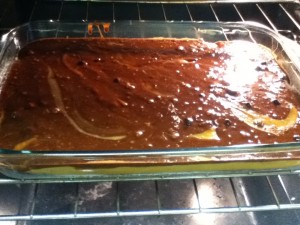 Try not to pass out from the delicious aroma wafting through your kitchen.
Eat a piece of chocolate to give yourself some stamina to wait the entire 25-30 minutes.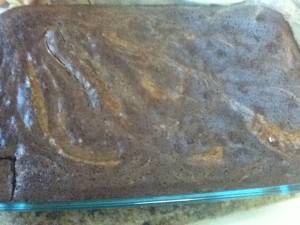 This ipod pic certainly doesn't do these babies justice.
These brownies are supposed to cool overnight before eating.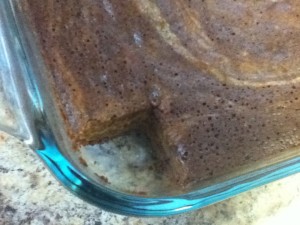 I'll give you 1 guess about what I decided to do.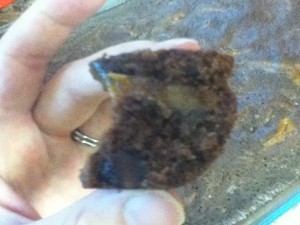 That picture is horrible and definitely doesn't reveal the true beauty found in this confection. However, that amazing caramel layer towards the top? Divine. Absolutely.
My fave part of this brownie are the edge pieces. The caramel gets kinda chewy on the edges and is amazingly tasty.
My hubby really likes these. He normally likes desserts that I make. But he doesn't normally eat them just on his own. However, he's really loved these! Makes me happy. 🙂 (partly because I'm glad he likes them; partly because there's less for me to eat.) 😉
So, in case you want to make them, here's the recipe:
Fudgy Caramel Brownies
Ingredients:
14 ounces caramels, unwrapped
14 ounce can sweetened condensed milk
1 cup + 1 Tbsp. unsalted butter
2 cups granulated white sugar
4 large eggs
3/4 cup unsweetened cocoa powder
1/4 cup milk
1 1/2 cups all-purpose flour
1 tsp salt
1 tsp baking powder
1 cup semi-sweet chocolate chips
Directions:
1. Preheat oven to 350°F. Spray 9×13-inch pan generously with cooking spray.
2. Prepare caramel: In a medium saucepan over low heat, place caramels and sweetened condensed milk. Stir often until caramels are melted and mixture is smooth. Remove from heat and let sit while you prepare the brownies.
3. Prepare brownies: Melt butter in a pyrex cup in the microwave. Set aside and let cool.
4. In a large bowl, beat together sugar and eggs. Add cocoa powder and milk. Slowly mix in melted butter.
5. In a separate bowl, sift flour, salt and baking powder. Whisk dry ingredients into thechocolate mixture. Stir in chocolate chips.
6. Pour two thirds of the batter into prepared pan. Place in oven and bake for 15 minutes.
7. Carefully remove the brownies from the oven and pour cooled caramel over the top. The caramel will appear heavy compared to the brownie batter, and it will appear to sink to the bottom of the pan in some places – this is normal. Drop spoonfuls of the remaining batter over the caramel. Use a knife to gently swirl it into the caramel.
8. Return the pan to the oven and bake for 25 – 30 more minutes. Remove from oven and let cool on rack for about an hour. Cover with foil and place the pan in the refrigerator overnight.
9. The brownies are super gooey, so you might want to wipe your knife off in between cutting each row. I wasn't going for looks, so I just plowed through with my knife and had a ball. 🙂
These are amazing when eaten with ice cream!
We've been keeping ours in the fridge, then warming them up for 15-20 seconds before eating. Delish!!!