What do you think about this?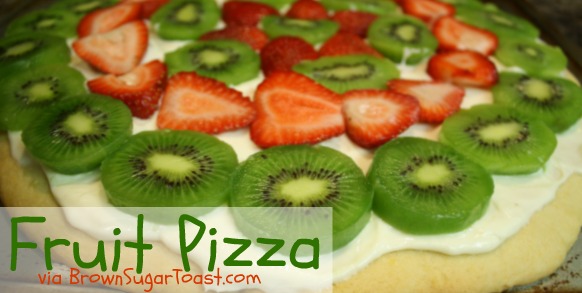 O my. Yes, it was tasty. I do love pizza – last week we had pizza for dinner (homemade crust topped with garlic white sauce, chicken, olives, mozzarella & oregano) and then this fruit pizza for dessert. One can never eat too much pizza. Try this recipe and I'll prove it to ya.
Now, on to business: I never made fruit pizza before, so I asked my friend, Christina over at The Frugal Homemaker what to use for a crust. She suggested a sugar cookie crust – specifically this recipe from it's Just Laine.
Let me just say: perfect idea. Laine's sugar cookies are fabulous. Seriously. I was so glad when my oven finally preheated so I could get the pan into the oven and stop snitching dough! Because, obviously, while it was still out and not baked, I couldn't help myself from taking little pieces and re-shaping the crust on the pan. Good grief.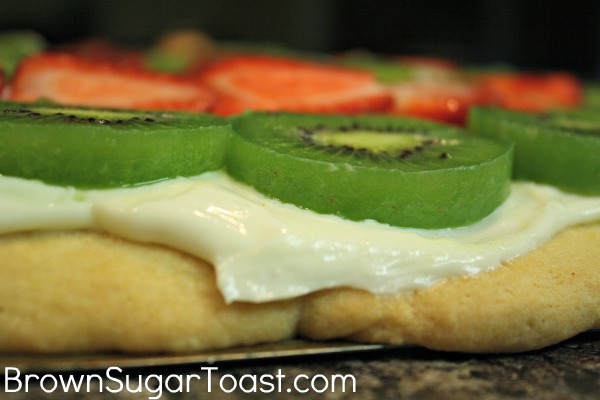 The great thing about this recipe is that it can be easily customized, both in looks and taste! I baked mine on a large cookie sheet and shaped it like a pizza, but you could easily bake it on a stone or even in a 9×13 dish. In addition, you do not have to use kiwis & strawberries either. I saw some fabulous ideas for fruit pizza on pinterest. Yummy. The "sauce" is just cream cheese, white sugar, and a bit of vanilla. I found the cream cheese recipe from allrecipes.com. Pretty simple – just cream cheese, granulated sugar & vanilla.
So for your next cookout or pool party, why not bring a fruit pizza? Refreshing and beautiful!