Last week, Jonathan & I celebrated our 8th anniversary. Before my pre-term labor, we had planned to go away for 2 days in celebration. But after my water broke, we put that plan – and a lot of other ones – out of our minds.
When God surprised us by giving me 6 more weeks (& counting!!!) of pregnancy, we decided to put our getaway back into the schedule.
Some kind friends watched our 3 precious littles for us while we got away for some couple time. We hiked, canoed, walked, biked, and took advantage of the empty hotel pool. We talked, scoped out some local eats (thai food! pizza! avocado smoothies!), and browsed a used bookstore (homeschooling resources!). We finally finished reading a marriage book we had started a year ago (#9 on this list. #5 is next on our list.), prayed together, talked through goals. We missed our kiddos a lot, but really enjoyed the time to focus on each other.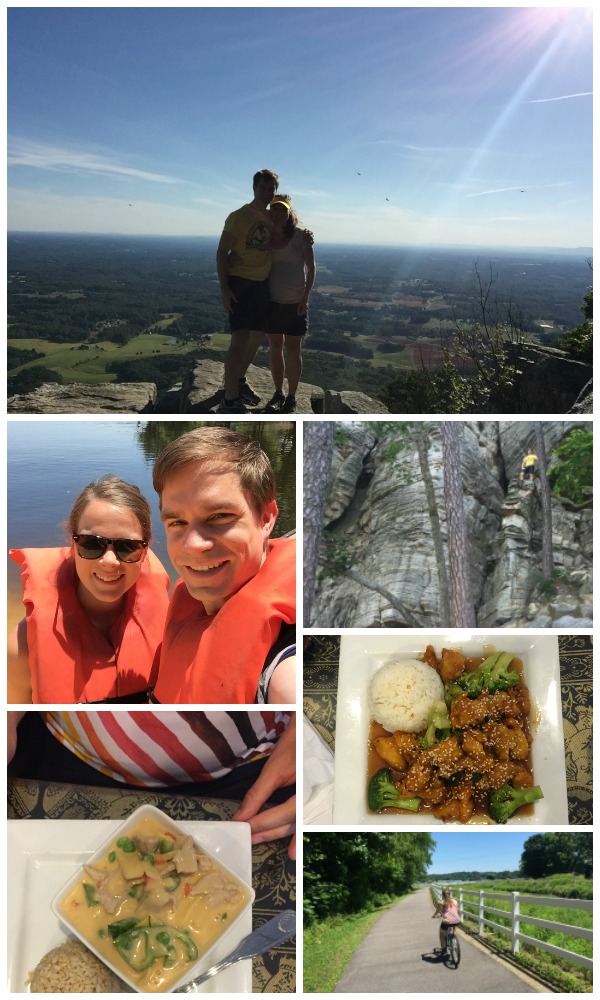 If you're ever in the Mount Airy, NC area, check out Thai Cafe. We liked it so much that we went for lunch and dinner! And a fun side story: the first night we ate there, a waiter came to our table at the end of our meal and said another couple had paid for our meal because they thought we looked like a sweet couple. Another reminder that God provides!
Yesterday, I asked Jonathan if we could just make our getaway a weekly thing. I mean, I don't ask for much, right? 😉 I'm so thankful for the way the Lord provided this trip away for us – from sweet friends to lovingly watch our babies, health to get away and be so active, and resources to get away. He's a kind Father indeed.
Did you miss the Dwelling Richly interview with Carolyn McCulley this week? Catch it here!