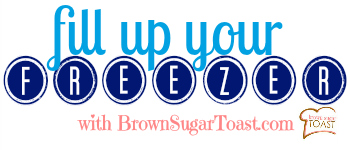 Well, folks – it's come to this. This is our last week for our "Fill Up Your Freezer" series. I hope you've enjoyed it! Here are the recipes I've shared so far:
Today's recipe was not supposed to be soup. But a friend shared this recipe with me, I made a triple batch, and had to share it with you. Because it's definitely a keeper: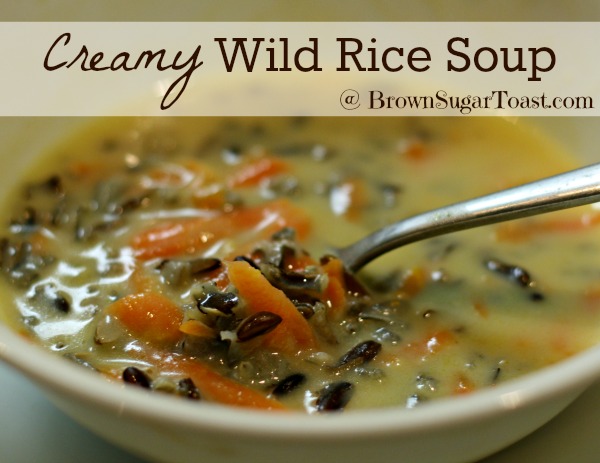 I made this soup several weeks ago during a cold and blustery day. Soup is always best when served on blustery days, isn't it? We ate it with Pumpkin Dinner Rolls. Delish combination. If you plan to freeze the soup, simply let it cool after cooking, then store in freezer bags. Make sure to lay your bags flat when freezing – that will save tons of space in your freezer because you can just stack the frozen soup!
This would also be a fabulous thing to freeze in quart-sized bags, so that you can easily pack a healthy, homemade lunch.
I made quite a few changes to the original recipe – because I like a little more flavor punch in my soup. So, if you want to see what the original recipe looks like, head over here. Otherwise, see below for my family's new favorite soup recipe!
Ingredients
6 tablespoons margarine or butter
1 tablespoon minced onion
1/2 cup flour
3 cups chicken broth
1 teaspoon garlic powder
1/2 teaspoon crushed red pepper
2 cups cooked wild rice
1 cup finely grated carrots
3 tablespoons chopped slivered almonds
1/2 teaspoon salt
1 cup half and half
Instructions
Melt margarine & saute onion in a large pot.
Blend in flour, then gradually add broth.
Stir constantly, until mixture comes to a boil; boil and stir for 1 minute.
Stir in rice, carrots, almonds, spices, and salt; simmer about 5 minutes.
Blend in half and half. Heat through.
http://brownsugartoast.com/freezable-wild-rice-soup/
Miss any freezable recipes? Click on the pics to see what you missed!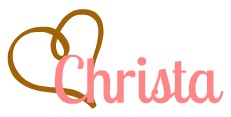 Don't want to miss a post?
Sign up to get free email updates
& connect with me on facebook!