Hello all! Happy Monday! I hope your weekend was swell.
I had a fun weekend – especially on Saturday. I woke up and told my hubby I wished the smell of bacon, eggs, and biscuits would come wafting down the hallway. He said, "fat chance of that happening." 😉
But then I remembered we had a Cracker Barrel gift card and – score – hadn't used it yet.
So off we went to Cracker Barrel. By the way, I got their Sweet Potato Pancakes and they were amazing! Seriously. They had brown sugar butter on top and I slathered that all over my pancakes. I've gotta find a recipe for them. I didn't even use any syrup because they were so sweet! Mmmm…I can almost taste them again.
Actually, I did kinda taste them again. I was scheduled to run 6 miles (in preparation for my half marathon – wrote about that in my yearly goals), so I did that right after my massive breakfast. My massive breakfast that consisted of 2 pancakes, 2 eggs, 2 slices of bacon, and a bowl of grits. I love grits. I tried to tell my daughter it was ice cream. Southern ice cream. But she didn't buy it. Too bad for her.
Last week, I took advantage of my kids' naptime and decided to spend some time crafting. Boy, it felt good to create something again! I haven't been doing it much since my little man was born. I had some fun flowers I got from Michael's. Remember that $5 off $5 coupon they put out a few weeks ago? (I posted it on my facebook wall.) This is some of the stuff I got with it!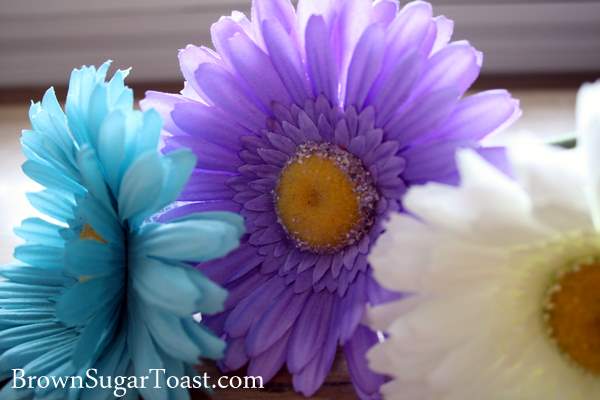 I got these flowers because I wanted to make some clips for my little girl's hair. I let her pick out the colors. She LOVED holding one of them in the store. Actually, she was using it as a broom on our way out the door. That proves how hardy these flowers are…you can't even tell it was dragged and pushed across the floor. Love that girl o' mine and her crazy imagination!
You've probably seen these flower clips everywhere – whether in someone's hair, on their shirt, purse, etc. They are crazy easy to make. My friend, Christina, just posted about how she made some flowers into pins. She got her flowers for free with the Michael's coupon too! Great minds think alike, right-o?
These clips are SO easy to make. You could make one in less time than it takes to dry your hair.
Unless your hair is really short and thin.
Anyway, super simple process that barely needs explaining, so here it goes with pictures. First, gather your supplies: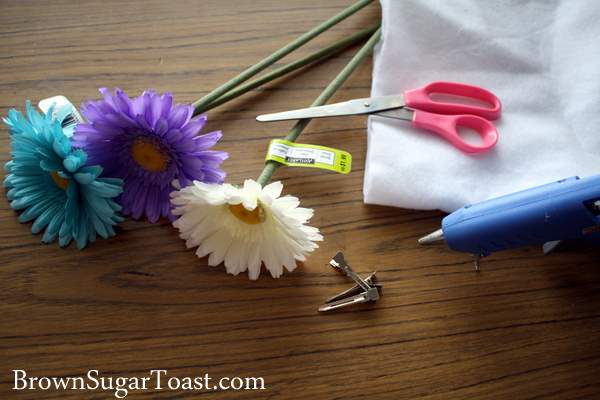 Hint: Don't use wimpy scissors like the ones I have pictured. They won't work. I later traded these in for wire cutters. But I was too lazy short on time to take another picture.
Use some wire cutters to clip off the stem.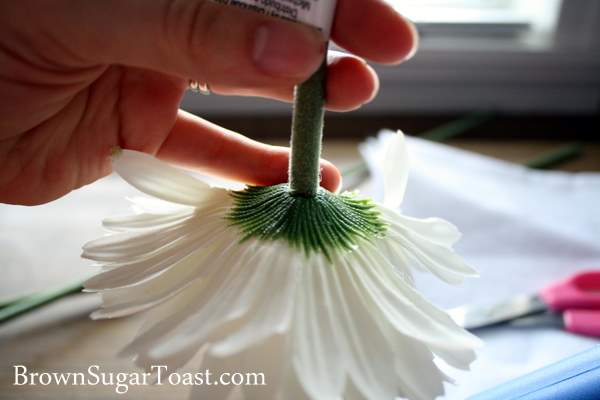 You want to get it as close to the flower part as possible. Otherwise you'll have a 3D looking flower sticking on top of your head.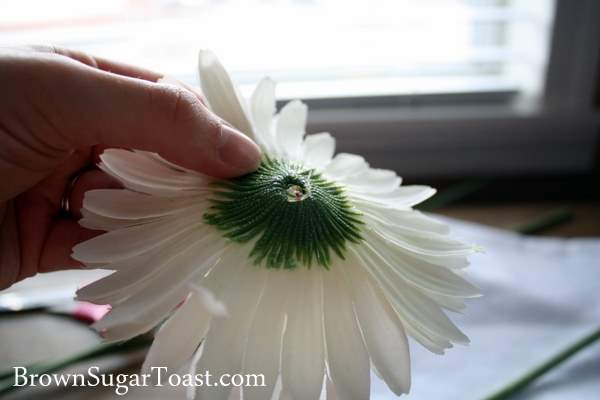 Cut a circle out of felt and hot glue it to the bottom center of the flower. This pic was taken before I used the hot glue. FYI.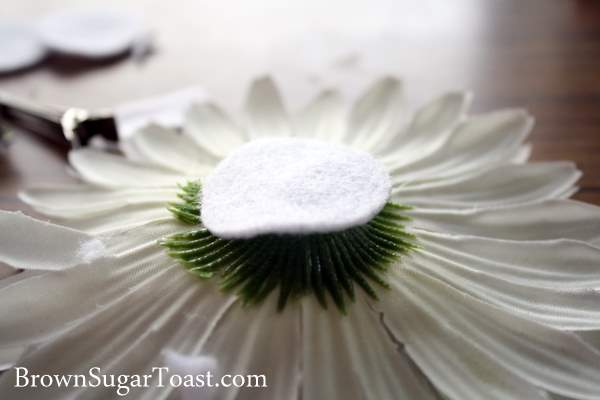 Now take your hairclip (or pin) and hot glue it on top of the felt. I also cut out a smaller circle and glued that in between the hair clip. It "grips" my daughter's hair better that way.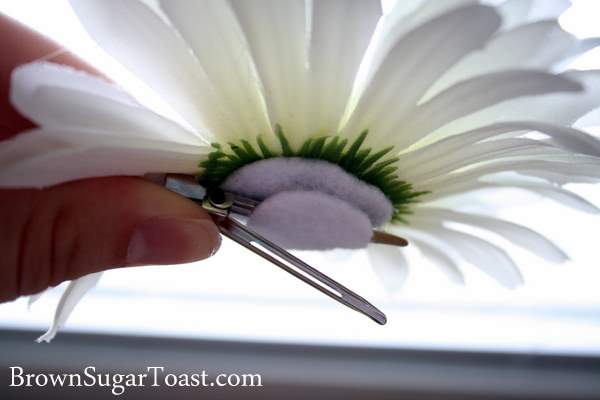 Voila! You just successfully made a gorgeous flower hair clip!
Now, since my little girl was sleeping, I just clipped the flower to my shirt and took this self-portrait so you could see the size and all.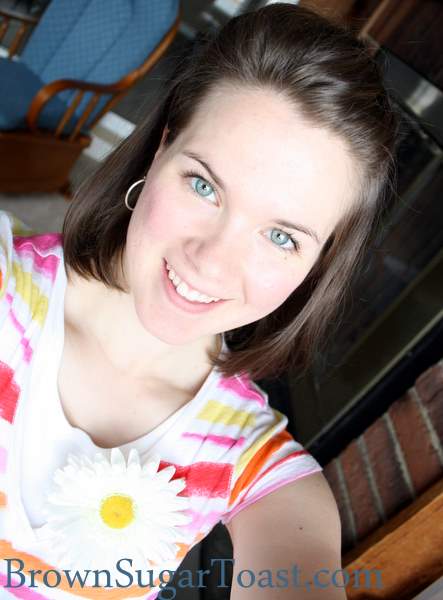 See? You could make some outfits look super cute and spring-y just by adding a couple of these babies to your accessory pile. Super simple and cheap.
Now I'm off to run a few more miles and hopefully burn off 1/2 a slice of bacon. Phew.