Hello, you beautiful September 23. How glorious that the first day of Autumn has finally arrived!
Now, if we could just get some of that lovely crisp weather around here… 🙂
In honor of the first day of fall, I have one of my favorite ever wreaths up on my door. Here she is: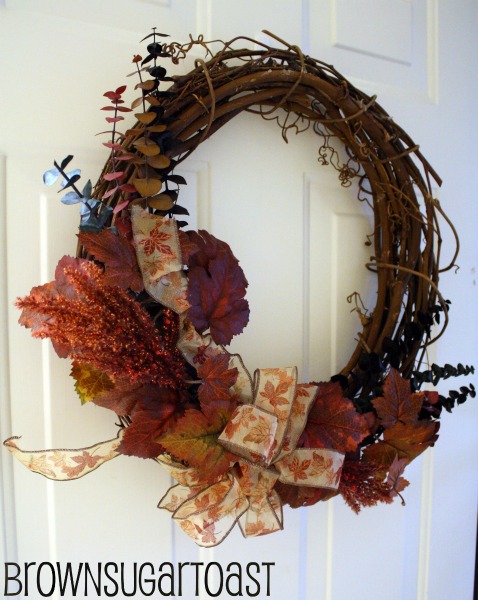 I made this wreath using an old grapevine wreath my Mom had. There used to be Christmas things hot-glued to it, but I ripped them off in order to glue some more fall-ish stuff to it. (don't worry – I had Mom's permission before I tore apart her old wreath.) I think I got the "filler" stuff and ribbon from Michael's? Or maybe Hobby Lobby? I can't remember…but you can find it anywhere during this time of the year. I've even seen some natural looking leaves at the Dollar Store!
One of my favorite things in the wreath is the eucalyptus. I guess the scent of eucalyptus is a love/hate thing? But over here in our house, we love it. In fact, the other night, we stopped at Michael's to get some paintbrushes (more on that project later…:)) and my hubby and I agreed that it smelled amaaaaaazing in there. The main reason was because of their eucalyptus! I love that when I open my porch door, there's a great "eucalyptus waft" that greets my nose. 🙂
To make this wreath, all I did was figure out where I wanted the branches, then use a bit of hot glue to keep them in their place. I made the bow out of wired ribbon, then kinda looped it through the branches to make it look more natural. After I figured out where I wanted the ribbon, I used just a dab of hot glue to affix it to the wreath.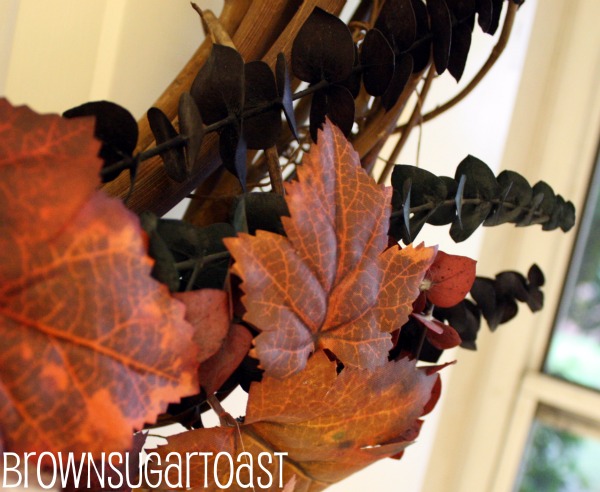 There are several reasons I love my fall wreath:
she signals that fall has arrived (or I guess that I just have REALLY bad timing) 😉
she is purdy to look at
she smells wonderful!!
I don't know why I dubbed this wreath a "she," but … that's beside the point. 😉
So, how about you? Have you decorated for fall already? I just got the Pottery Barn catalog in the mail and they had some beautiful fall decor in there. (they even had some Christmas things already!) So I am officially in the mood for fall – no matter what the weather turns out to be!
Have a fabulous weekend!!
~Christa 🙂