Welcome!
To make sure you don't miss anything,
sign up for free email updates & connect with me on facebook!
There are some days when I know what I'm making for dinner well in advance and I have all the ingredients ready.
And then there are the normal days. Or – at least sometimes it seems that way. On the days when I can't remember what in the world I was planning for dinner and my pantry ingredients look shady, that's when I turn to the freezer. But not for fish sticks and chicken nuggets. Nosirree. Every once in a while, I get this great idea to do freezer cooking. And on crazy days, I'm so glad I do.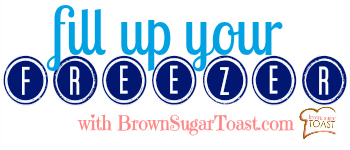 Over the next 6 weeks, I'm going to share 6 of my family's favorite freezable recipes! These aren't new recipes I'm trying out just for this series. They're good old standbys. One of them I made with my mom when I was younger. Some of them I've made for the past several years. The one I tried most recently has been in our regular meal rotation for 5 months. So, consider these recipes tried and true. At least for my family's taste buds. Over the next 5 weeks, I'll share:
Today, I'm going to share my freezable pizza dough recipe!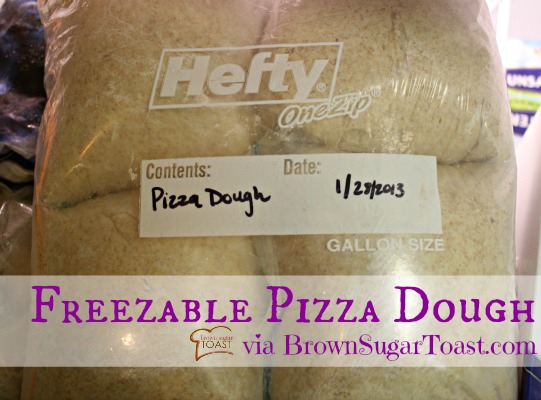 We love homemade pizza in our house. When Jonathan comes home and smells pizza in the oven, he's a happy man. And my kids love it too! If you have picky eaters in your home, pizza is a great way to get some extra veggies into your kiddos' diets. I always use sauce with mushrooms in it just for an added nutritional punch. And one of our fave pizza combos includes spinach. Talk about getting in your greens!
The recipe below makes 2 thick pizza crusts. I made it on Monday, doubled it, and now I have 4 pizza crusts in the freezer all ready to go! And if you get a brain block when it comes to pizza toppings, here are 4 of our faves:
traditional red sauce, pepperoni, mozzarella, and italian seasoning

garlic white sauce, shredded cooked chicken, olives, basil, and mozzarella
olive oil, spinach, fresh tomatoes, feta, and sea salt
red sauce, cooked hamburger, green peppers, mozzarella, and italian seasoning
bbq sauce, shredded chicken, chopped red onions, and cheddar cheese
And when I get tired of those options, I get inspiration from checking out awesome pizza menus like this one.
Fill Up Your Freezer Series :: Freezable Pizza Dough
Ingredients
2 Tblsp active dry yeast
2 cups warm water (105-115 degrees)
2 teaspoons sugar
5 cups flour (I use half white & half whole wheat)
4 Tbsp olive oil
2 teaspoons salt
Instructions
In a large bowl, dissolve yeast in water.
Mix the rest of the ingredients with the yeast mixture.
Dump on floured surface and knead for 3 minutes.
Divide dough in half.
If freezing: Seal tightly in freezer bags & store in freezer for up to 6 weeks.
When baking: Allow to thaw at room temperature for at least 4 hours. Roll onto greased pan, top with desired toppings, and bake at 500 degrees for 10 minutes or until light brown.
http://brownsugartoast.com/fill-up-your-freezer-series-freezable-pizza-dough/
So, what's your favorite pizza combination? Have you ever tried to freeze your pizza dough?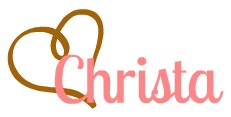 p.s. Don't forget to check out my other freezable recipes! Freezable Cookie Balls