I have been a bit absent from blog-land this week. I didn't even post on Wednesday – I don't know if that has ever happened since I've started blogging! Remember last week when I told you I had some sort of nasty sickness? Well, it never left. I thought it was on its way out, but then it hit hard on Tuesday. I barely got out of my pj's. I really felt awful. I went to bed soon after my hubby came home from work and didn't wake up until he left the next morning. It was intense.
I think I'm on the mend now. Not feeling great still, but mending, I do believe. Hoping to be back in the world of energy and accomplishing things soon!
The theme for this week's photog challenge with My 3 Boybarians is Fiesta or Siesta. I tell ya, I've been doin' a whole lotta siesta-ing this week! But I didn't want to take a picture of myself lying on the couch surrounded by cough drops, my water bottle, and tissues. I'm not that transparent.
Here's a pic I shot of my little girl. She was playing in the grass, pulling it up and dropping it on her face: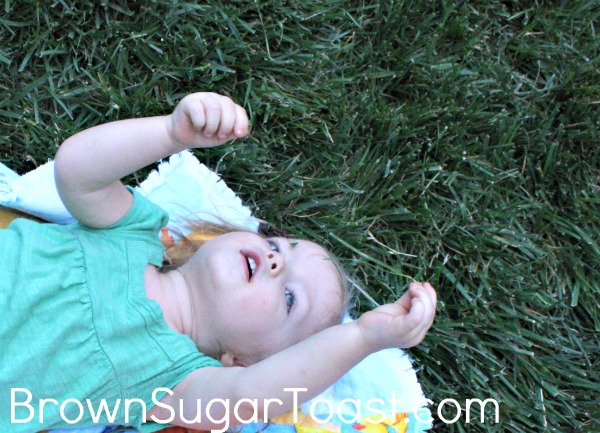 It was such a funny mood for her. She's usually not still like that – especially when we're outside and I have the camera! So I took advantage of it and snapped a few pics before she got up and ran away.
Tomorrow is the walkathon for Jordan Ocampo. I'm looking forward to being there with my family and supporting a great cause. I'll let you know how it goes and the $ amount that was raised next week!
Oh, and I'll be back later on today to announce the winner of Feminine Appeal!
Want to see my other pics from the challenge?
Week 1 :: Resolution
Week 2 :: Made with Love
Week 3 :: I Dreamed a Dream
Week 4 :: Self-Portrait
Week 5 :: Shadows
Week 6 :: Drink Up
Week 7 :: True Love
Week 8 :: Cabin Fever
Week 9 :: A Great Leap
Week 10 :: Be Still
Week 11 :: The "Eyes" of March
Week 12 :: Hunger
Week 13 :: Details
Week 14 :: Foolin' Around
Week 15 :: Sacrifice
Week 16 :: Things that Grow
Week 17 :: Green