Hello all!
I am on vacation in Hilton Head (in case that wasn't clear from all my freaking out facebook and twitter updates recently) ;), so this week's posts will be much less normal than usual because I'm planning to spend most of my time with my family instead of on the computer blogging.
See, right now they are doing this:
yes, that's Daddy letting his fave little girl play on his ipad. They're playing Angry Birds, I think. 🙂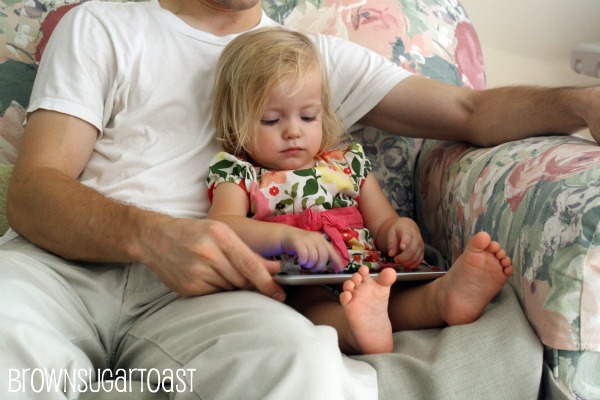 you can see the blue glow of the screen on her arm. 🙂
and I'm the one out of the pic working on this post with my feet up on the coffee table.
boring.
😉
Anyway, the point of this post is not to tell you about our vaca, but to share a little encouragement with you. You see, the other day, my baby girl slept in. Like, waaaaay in – I think it was after 10 or something when she woke up. Awesomesauce.
I was awake – believe it or not – and working on some crafty project. What a nice, bloggy thing to do. 😛 And since what I was doing was kind of mindless, I decided to listen to a sermon. I found one on these verses:
"Who shall separate us from the love of Christ? Shall tribulation, or distress, or persecution, or famine, or nakedness, or danger, or sword? As it is written, "For your sake we are being killed all the day long; we are regarded as sheep to be slaughtered."
No, in all these things we are more than conquerors through him who loved us. For I am sure that neither death nor life, nor angels nor rulers, nor things present nor things to come, nor powers, nor height nor depth, nor anything else in all creation, will be able to separate us from the love of God in Christ Jesus our Lord." Romans 8:35-39
And during the time I listened to that sermon, my heart was encouraged. And I thought of it many times throughout the week and shared it with my husband.
So I wanted to share it with you. If your little baby sleeps in unexpectedly one day…or you have some extra ironing/cleaning/cooking time when you can listen to something while you work, check this sermon out. It's called Inseparable from God's Love.
You can find it by clicking on the link, then looking for the AM service on June 12. Or, if you're reading this post and they don't have the June 12 sermons posted anymore, contact me and I can email the sermon to you. I downloaded it. 🙂
Hope it's an encouragement to you this week!!