I am thoroughly delighted to finally introduce this series: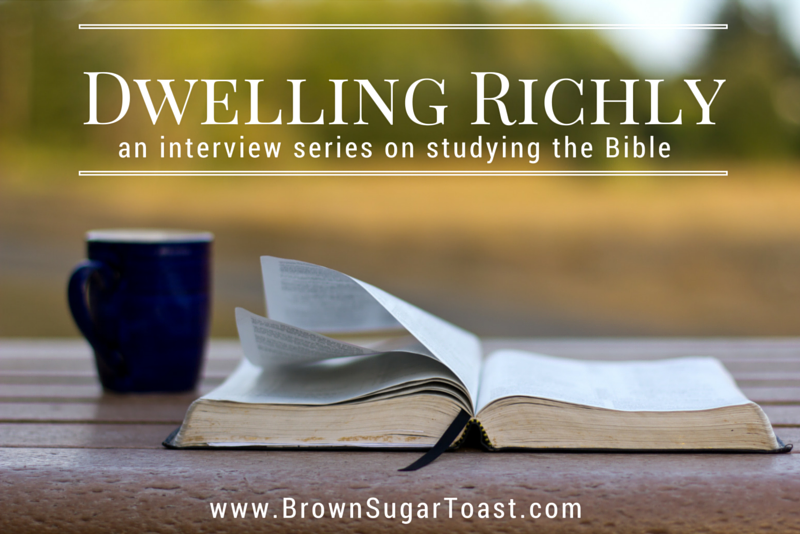 The Dwelling Richly title is taken from this passage:
Let the word of Christ dwell in you richly,
teaching and admonishing one another in all wisdom,
singing psalms and hymns and spiritual songs,
with thankfulness in your hearts to God.
My goal for this series is to
encourage you to get in the Bible
and personally experience the power of God's living Word
in your day to day life.
As I began brainstorming for this series, I thought about the women who have influenced me and given me a greater passion to know God through His Word. Wouldn't it be awesome to learn from their experience of walking with God? Definitely! And so this series is built around interviews with women – some I know very well (like my Mom!), some have influenced me through their writings (like Jen Wilkin & Gloria Furman) & others I have learned from by reading their blog, following them via social media, or hearing them speak at conferences.
I created a list of 12 questions focused on their relationship with the Word and asked each woman to answer 5-7 of them. As I read through their answers, I was immensely encouraged by their study of God's Word as well as the different ways they've made that study time happen. I know this series will be an encouragement to your heart just as it has been to mine! I'll post a new interview each Wednesday, beginning this week with Jen Wilkin, author of Women of the Word.
But before we plunge in to the series, I have a fantastic giveaway for you!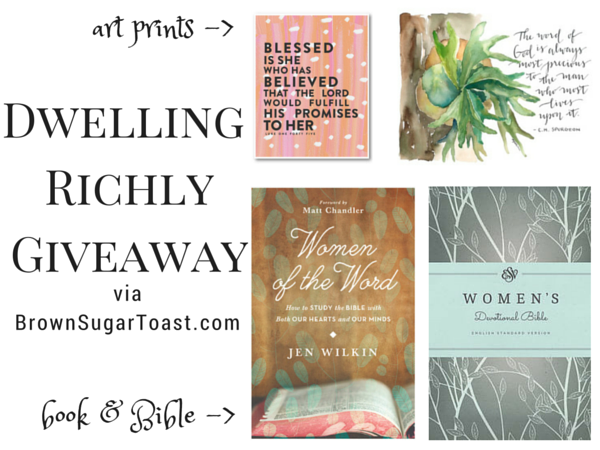 Luke 1:45 print // Live Upon It print // Women of the Word // Women's ESV Devotional Bible
I own 3/4 of these items and absolutely love them so I know you will too! I am praying that these prizes would go to 4 ladies who need a little extra encouragement in their lives right now. The Lord can work even through little things like "random" giveaways, right?
I'll pick FOUR winners for this giveaway so there are more chances for you to win something. I'm using Rafflecopter to run the giveaway just to keep things random + fair, so the prizes will be distributed in this manner:
#1 – Bible.
#2 – book.
#3 – Live Upon It print.
#4 – Luke 1:45 print.
I'll email the winners next Monday & post it on facebook as well. If you're reading this by email, click here to enter! Otherwise, you can enter below.