Okay, I realize I am way behind in my "read 1 book/month" goal for 2011. But the year is not over yet. I still have great plans to read 12 books this year. I may just have to read 2 books/month during these last 2 months. 🙂
All of that aside, I recently finished a fantastic book entitled Creative Counterpart
. Written by Linda Dillow, the subtitle is "Becoming the Woman, Wife, and Mother You've Longed to Be." If you fall into any of those categories (woman, wife or mother), I'm guessing this book sounds interesting to you. At least…it did to me. 🙂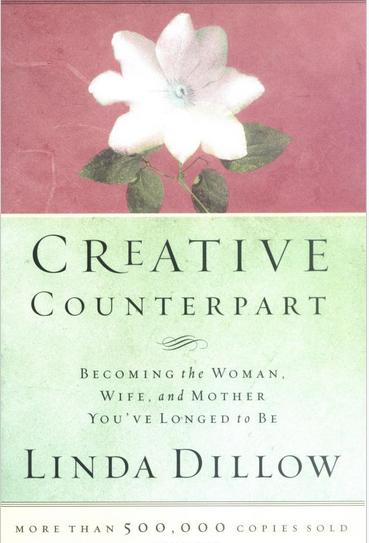 2 friends and I decided to go through this book together and met once a week discussing the chapters. There's a study guide included in the back of the book which forces you to think and write about what you've just read – rather than just skimming it and forgetting it within 2 hours. (which is easy for me to do…especially if I'm trying to read while my little girl is awake) 😉
Here's a list of the chapter titles along with my own description in italics:
The Honeymoon Disaster – (Dillow's personal marriage story & intro to the book)
The Beautiful Blueprint – (an in-depth look at the Proverbs 31 woman)
God's Game Plan – (God's plan for a woman to change to be who He desires)
The Priority Planner – (a woman's many priorities: the order they should be in & how to balance everything)
My Own Robert Redford – (Changing your husband – the motivations, attempts, failures, right or wrong?)
His Greatest Fan – (praising your husband in public and private)
The Executive Vice President – (The "S" word…that would be submission)
Inherit a Blessing – (responding to critical remarks with a blessing instead of fighting back)
My Beloved and My Friend – (a discussion of Song of Solomon)
The Creative Lover – (Song of Solomon gets a bit more practical) 🙂
The Consistent Responder – (responding correctly in every circumstance)
My Mom gave me this book soon after I got married, so I had read parts of it a few years ago. But I learned so much more going through it in a small group on a 1 chapter/week schedule. Plus, doing the study guide made everything come down to the practical "what-am-I-going-to-do-about-what-I-just-read" level.
This book is geared especially towards wives. While it does talk some about mothering, it mostly talks about being a godly wife (as evidenced by the chapter titles and descriptions).
In light of this past month's 31 Days of Building Your Marriage posts, this book would be an excellent choice for you to study if you are seeking to improve your marriage. Remember the questions I encouraged you to ask and answer about your spouse? Those are taken directly from this book.
In fact, here's an idea for you…buy this book for your husband as a Christmas gift with a promise to read it and act on what you learn. 🙂
I highly recommend this book – either for you to go through as a personal study or with a small group. If you do read it (or already have read it), I would love to hear what you thought about it and how it has helped you in your marriage!
Happy marriage building to you!