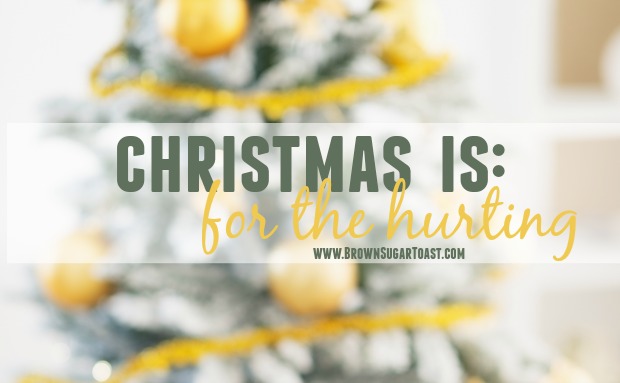 I've had a hard time with Christmas this year.
The lovely home tours that are usually so inspiring to me? I haven't even looked at most of them.
We decorated our home for Christmas, but I only put up about 50% of our stash. The main thing I keep thinking is "I can't wait until this is over so I can get the house back to normal."
I think some of it is because I just wrote about Simplifying for 31 days. So the whole "let's fill our home with a tree and more stuff!!!" is kinda bothering me.
But I also think some of it is because my heart is… full.
I use the word full intentionally. Because it's not that I'm overjoyed. Or depressed. It's just that, ya know, sometimes life overwhelms you with all it's imperfect ugliness at the same time.
And all of this has really served a greater purpose. Because it's pulled my eyes away from the emptiness of home decor, traditions, and presents and drawn them to Jesus.
Christmas.
Think of Mary and Joseph. Certainly they had full, hurting hearts leading up to the birth of Christ. Certainly they faced rejection because of their choices – and because of God's choices for them.
And into their lives – their hurting hearts – Jesus came. Emmanuel. God with us.
Christmas is for the hurting. Jesus came to earth for me – the lost. He came and brought light to a dark, sin-cursed world.
He came to bring peace to hearts that are hurting. Yours. Mine.
Today
if you are caught up in the fleeting loveliness of the holiday –
would you take this as a reminder to rest? Allow your soul to rest in the One Who truly matters.
and if you are hurting –
maybe even because of the holiday and all the disappointments it brings to mind –
fix your hopes on the God who gave us Jesus. 
Christmas. It's for the hurting. That's why it's for us.