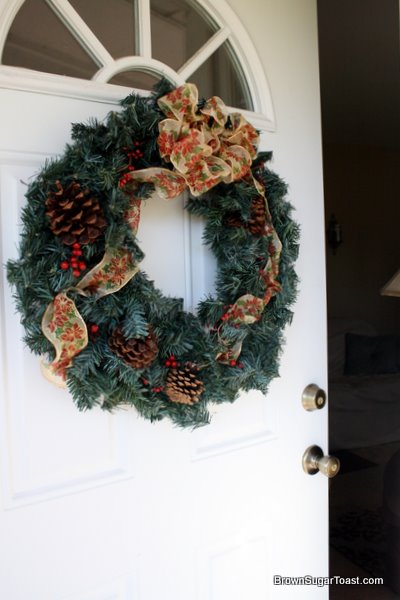 knock, knock
(Ahhhh!!! Someone's here?!?! I hope it's just the UPS man – I'm still in my pajamas and the house is a wreck.)
Oh hi! It's you. And you want to see my house? Ooooookay, but you have to promise to squint and tell me it looks beautiful even if you don't really think it's true. Deal? Okay, come on in.
This first room is the living room, where I have my "Noel" sign on the window sill: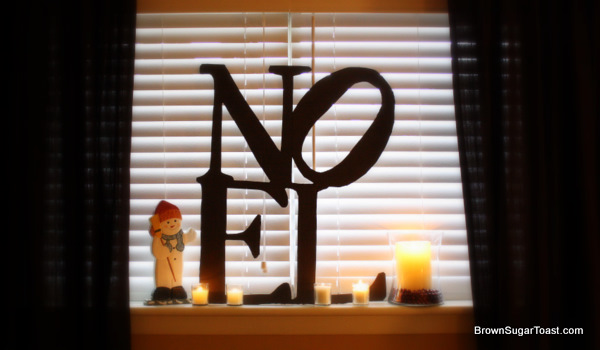 (see how I made my sign out of cardboard)
Then you come into the dining room/kitchen area. On the island, I have one of my most special Christmas decorations: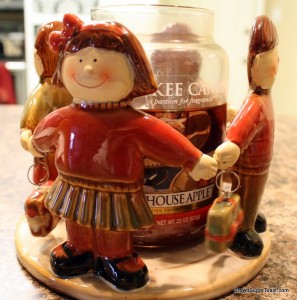 This candle holder is from my dear hubby. He gave it to me the first year we were married (on our 6 month-iversary, actually) and I just love it. There are 4 children around it and I named them all. Unfortunately, I forget their names. I think this little girl's name is Ellen. She just looks like an Ellen to me. Something about her hair… I'll let you know if I think of the other children's names. 😉
One of the slightly strange parts about my kitchen is the area above the sink. Strange – only because there's a large mirror above it.
So every time I'm washing dishes, I can look up and see the beautiful scenery…
oh wait, that's my reflection and I forgot to put on my makeup this morning. Whoops.
So here's my little solution to the mirror: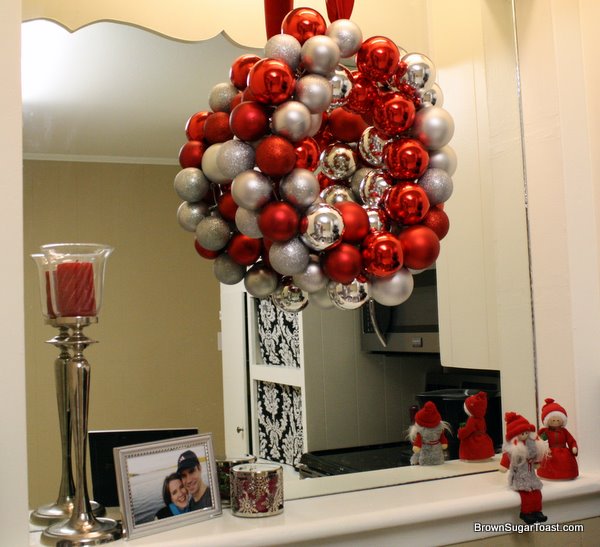 (see my fabric covered cabinets? still goin' strong…) 
That ornament wreath looks ginormous, but it's only because of the reflection. Here's a closer pic: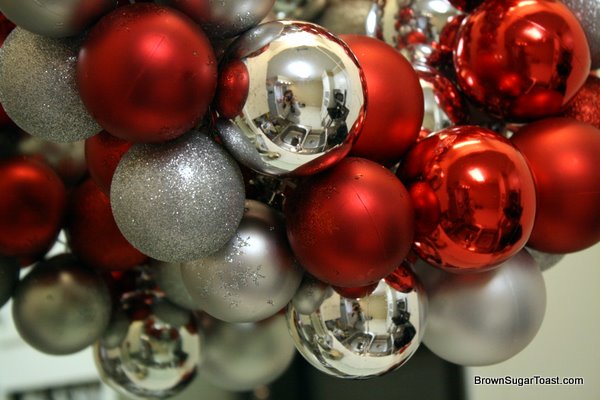 See? It's really not as big as it seems. And if you look at those silver balls you can see my reflection and – more importantly – the reflection of my dirty bowl. I ate some chili before shooting this pic…in case you were curious.
My Christmas tree is in my dining room: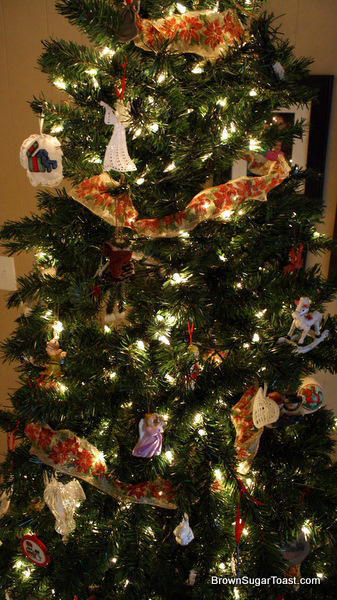 (you can see the whole thing right here and see my DIY furry-licious tree skirt here)
My table stays like this throughout the season: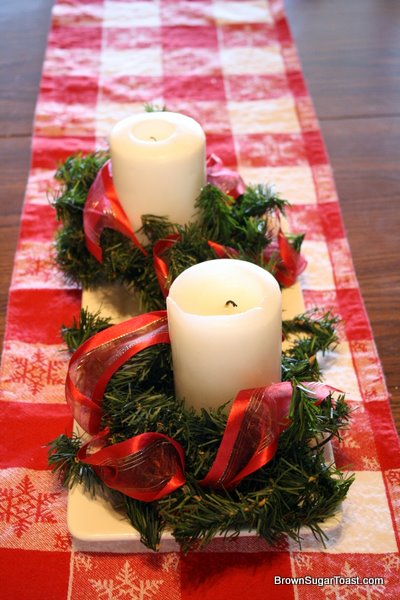 and above the table hangs my favorite tradition ever: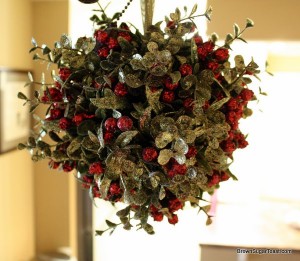 Do you know what that is? It's a massive mistletoe ball. I tell my little girl it's a kissing ball and kiss her a thousand million times when she gets under it. I decided I should tell you what it is because my brother-in-law informed me that it doesn't look like mistletoe. My hubby agreed with him. But my love for it remains strong. I know mistletoe isn't glittery and all, but I think it looks prettier this way. (Last year, I had this hanging on my fan (which was on an already low ceiling) and it bonked a few people in the head. I think that's why it wasn't too popular with my already-tall bro-in-law.) 😉
In our den (that we never call a "den") I have a few scattered decorations and magazines: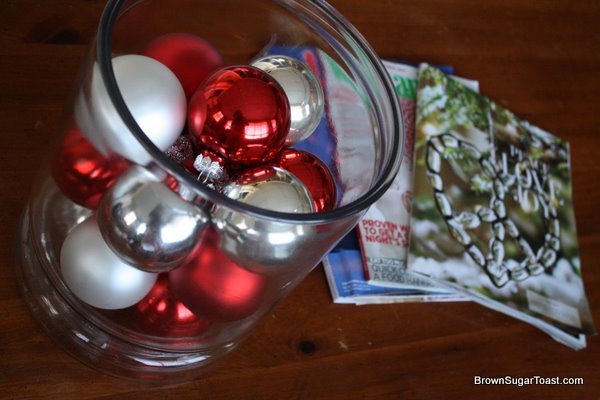 Those ornaments are leftover from the ornament wreath I made (the one over my kitchen sink). Some of the tops broke, so I put them in this big glass vase. Voila – instant Christmas decor!
I only have one little Christmas thing in my guest room.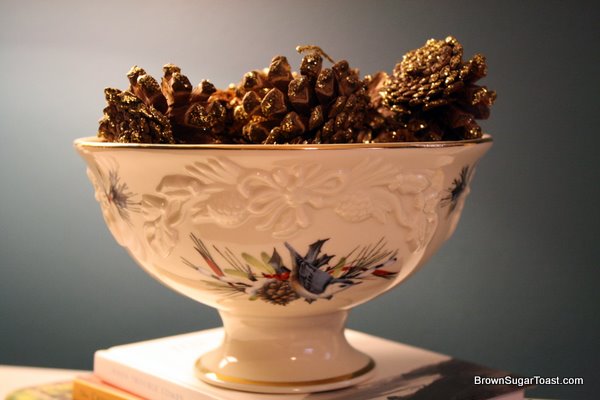 A Christmas bowl of glittery pinecones on a stack of books: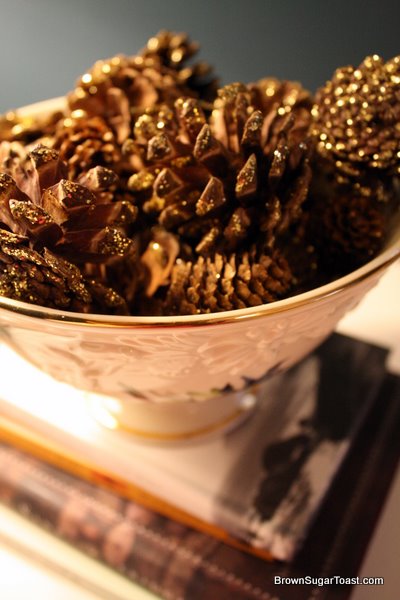 I had to show you 2 angles of that "scene" because I think it's so pretty. 🙂
Wait -what's that? You have to use the bathroom?
No problem…I've gotcha covered. First room to the right.
Here's an "aerial view" (read: me standing on the toilet to take the pic):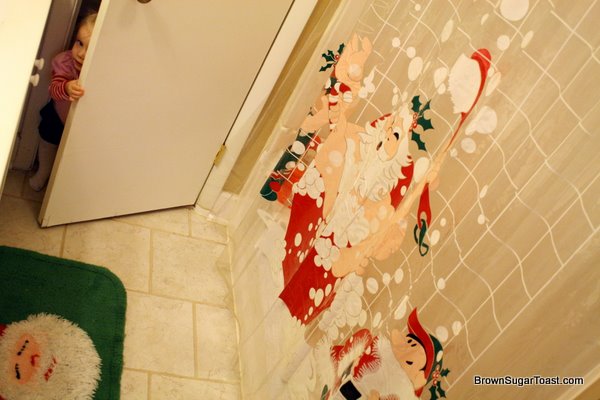 I asked my little girl to shut the door so you could see the whole shower curtain of santa taking a bath. 🙂 She loves this room and loves telling people about it when they come to our house.
We have a little towel: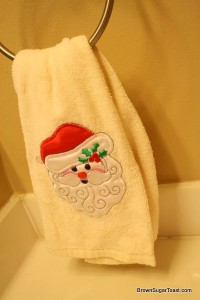 and Santa to go with it: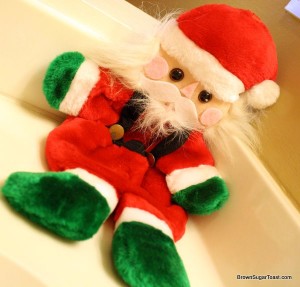 plus a few friends hangin' out on the wall: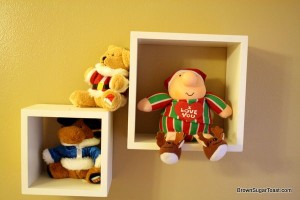 That's about it. I decided not to put up every. single. Christmas decoration this year because of recently having a baby and not wanting to overdo it.
Thanks for stopping by – hope you enjoyed your visit and weren't turned off by me still being in my pajamas. It hasn't been 6 weeks since I gave birth, though, so I think I'm still allowed to be in my pj's until at least noon every day. Right? That's what my doctor said. 😉
Make sure to stop in again on Friday because I'm sharing my very favoritest ever Christmas cookie recipe.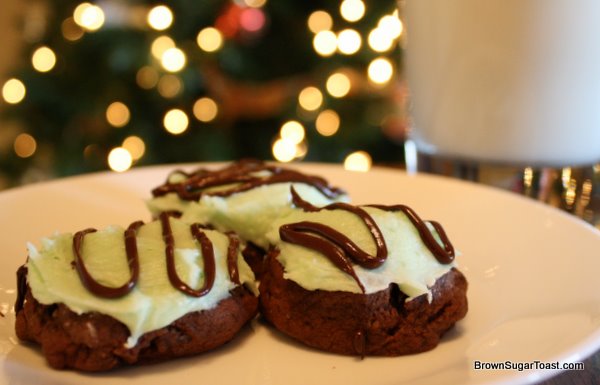 Until then…
~Christa 🙂
Linking up to:
The Nesting Place