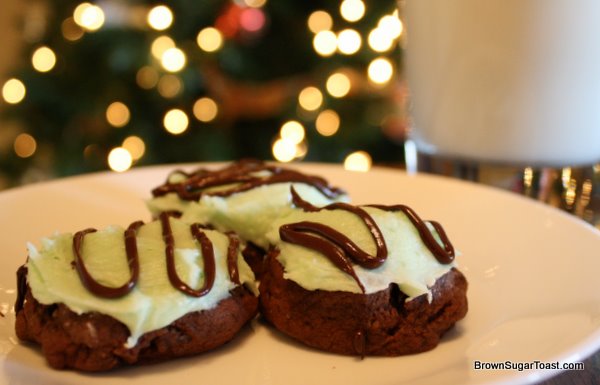 As I promised during my Christmas Home Tour, today I will share my most favorite Christmas cookie recipe E.V.E.R.
I've been trying to remember exactly when I discovered this recipe. I think it was 5 years ago when my parents gave me a magazine for Christmas entitled "Taste of Home's Best Loved Cookies and Bars." With a title like that, how can you go wrong?
Anyway, these little cookies caught my eye. I love the chocolate + mint combination. Come to think of it, I love pretty much anything when it's combine with chocolate. Take these Cappuccino Chip muffins, for example. Coffee + Chocolate? Yes, please. That's the reason I loved these Mocha Brownies so much. And who can forget the Brownie-Cookie Bars that can be made with 2 box mixes? Perfect.
I could go on. Most of my dessert recipes involve chocolate of some sort. But today is a day to share a new recipe. And so I shall.
But first, I will say … the lady who submitted this recipe to Taste of Home mentioned that she could eat these "shortbread-like treats by the dozen." I remember I was so grossed out when I read that…thinking of some lady stuffing her mouth with dozens of cookies. I shall now confess: I have become that lady.
Okay, maybe not that bad. But honey, these cookies are that good. If you like chocolate & mint, get ready for an amazing treat. Then come back and tell me that you are joining me in my plight. And you wonder why I run?
Chocolate Mint Dreams
a Taste of Home recipe
makes 2 dozen (the original recipe says it yields 4 dozen. They must have been making extremely tiny cookies, though, because I've always ended up with about 2 dozen. But maybe that's because I eat 2 dozen before I finish counting them.)
Ingredients
3/4 cup butter, softened
1 cup confectioners' sugar
2 ounces unsweetened chocolate, melted and cooled
1/4 teaspoon peppermint extract
1-1/2 cups all-purpose flour
1 cup miniature semisweet chocolate chips
ICING:
2 tablespoons butter, softened
1 cup confectioners' sugar
1/4 teaspoon peppermint extract
1 to 2 drops green food coloring
1 to 2 tablespoons milk
DRIZZLE:
1/2 cup semisweet chocolate chips
1/2 teaspoon shortening
Directions
In a large bowl, cream butter and confectioners' sugar until light and fluffy. Beat in chocolate and extract. Gradually add flour and mix well. Stir in chocolate chips. (Dough will be soft.)
Drop by tablespoonfuls 2 in. apart on ungreased baking sheets. (I recommend rolling them into balls and flattening slightly in order to achieve a prettier result. Otherwise they will look like small mountains.) Bake at 375° for 6-8 minutes or until firm. Cool for 2 minutes before removing to wire racks to cool completely.
Meanwhile, combine the butter, confectioners' sugar, extract, food coloring and enough milk to achieve desired consistency; spread over cooled cookies. Let set. In a microwave, melt chocolate chips and shortening; stir until smooth. Drizzle over cookies.
Enjoy!!