I have 3 kids. 4, 2, and 3 months. They have each gotten sick over the past 2 months. All at different times, of course. Flu, bronchiolitis, and RSV respectively. These things + the fact that my 3 month old still wakes up at night to eat and my 4 year old sometimes wakes up with bad dreams can only mean 1 thing = it has been a very long time since I have had a full night of sleep.
Last week I woke up at 4:09 AM and felt remarkably refreshed. I did the math and came to the conclusion that I had just slept for approximately 3 hours and 45 minutes. This was quite a bit more than I had previously experienced. I instantly breathed a prayer of thankfulness as I got out of bed to help whoever was crying at the moment.
And that's when the irony hit me: I'm thanking God for having a 4 hour stretch of sleep? Since when is that something to be grateful for?
Uh yeah. Well, it becomes a matter of praise when you're used to experiencing less. So going from 8 hours of uninterrupted sleep to 4 is a pretty big bummer. But going from 3 hours of sleep to 4? I might as well have just won the lottery, people.
And so thankfulness is all in your perspective. When I'm not thankful, it's because I'm focusing on the wrong thing. And maybe because I'm actually focusing on the wrong person. Me.
Or others.
Instead of Jesus.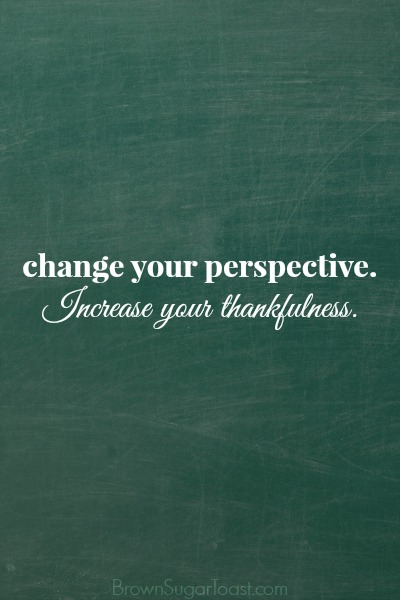 Maybe it's time to change your perspective. Join me?