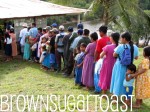 Yea for working internet!!
If you followed this blog at all in the past 2 weeks, you most likely were bombarded with tons of posts about Panama. In case you missed it, my husband and I went on a medical missions trip to the jungles of Panama with an organization called Operation Renewed Hope (ORH). We took 9 teens
Continue reading Panama Update…finally here!!