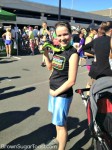 It's the middle of April. How are you doing on the goals you set in January?
Yikes. I really just went there.
I am a firm believer in making goals. I'm also a big proponent of following through & reaching those goals.
But sometimes you need to ditch your goals. 
Wisdom is not only in setting goals that are
Continue reading Ditch Your Goals