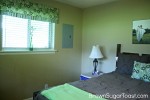 Every home has unsightly things about it. Things you don't love & wish you could change. My Master Bedroom had one of those unsightly, but very necessary items.
Meet the Breaker Box:
BAM.
There it is. As soon as you walk in the room, it's off to the right. Large and in charge, folks.
I've seen people paint over breaker
Continue reading How to Cover a Breaker Box