One of my fave places to go on date night is Carrabba's.
My hubby and I love their atmosphere and food! In fact, for Mother's Day, my dear husband got take-out from Carrabba's and we ate it at home. It was perfect! We put our little girl down for a nap when she got cranky and were able to enjoy a nice meal together – in our own home and away from the noisy Mother's Day crowd. 🙂 I highly recommend carry out for your next Mother's Day meal.
Now, this is really not an advertisement for Carrabba's. 😉 No, this is more like a hack into one of my favorite things about them.
You see, when you first sit down, one of the first things the waiter brings you is a basket with hot bread and a plate of spices. He then pours olive oil onto the spices plate and you proceed to dip your bread into the oil & spices.
It is one of the most marvelous taste sensations ever. Seriously.
So much so, that I wanted to recreate it. One thing: the spices are chopped so fine, we thought they were certainly dried, but our waiter told us they are always fresh herbs. So…I found a couple copycat recipes:
One from Food.com
And 1 from Macaroni & Cheesecake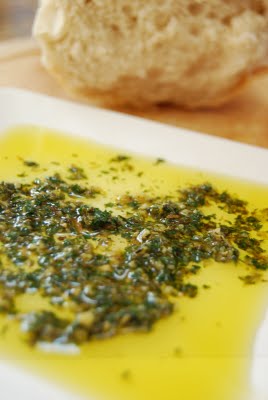 If you are a basil lover, I would go with the food.com recipe, which I'll share below. Stephanie from Macaroni & Cheesecake (have you seen her blog? you really should go check out her homemade strawberry poptarts!) mentioned that basil isn't readily available where she is, so she subbed some of it out for more parsley. I, however, am a basil lover and I have a tiny little basil plant currently growing on my front porch, so…more basil for me, please! 🙂
Carrabba's Bread Dipping Spices
via food.com
1 tablespoon minced basil
1 tablespoon chopped parsley (Italian is best)
1 tablespoon minced garlic
1 teaspoon dried thyme
1 teaspoon dried oregano
1 teaspoon ground black pepper
1/2 teaspoon kosher salt
1/2 teaspoon chopped rosemary
1/4 teaspoon crushed red pepper flakes
1/2 teaspoon olive oil
1/8 teaspoon fresh lemon juice
Combine all ingredients (except olive oil & lemon juice) in food chopper or processor. Chop until herbs are very fine. Mix in oil & lemon juice.
When ready to serve, place 1 1/2 tsp spice mixture to a small plate. Add 3-4 tbsp olive oil.
Dip bread slices in mixture and enjoy the amazing taste that is about to hit your taste-buds. 🙂
This recipe comes with my HIGHEST praise. So, if you're an herb and olive oil lovah, go try it with a couple slices of crusty french bread. You know, crusty-ish on the outside and soft on the inside? Yeahhh…now we're talkin'.
Now, I will say this…I served this to 2 of my brothers-in-law one time for dinner and the thought of dipping their bread in olive oil and spices kinda grossed them out. My husband loves it. So I know it's not just a guy-thing. But, if you have a guy who might be squeamish about this sorta thing…this probably wouldn't be the recipe to pull out for date night. Or birthday night. Or…any night really. just a hint.
Did you enjoy this post? I would love to connect with you on facebook!
Please share!