Excuse me, but do you remember this?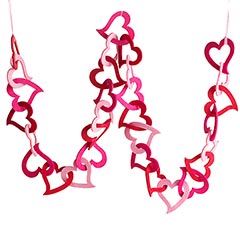 Yes, that was one of the cute little decorating ideas I mentioned in this post. And I said I wanted to go snag one after Valentine's Day?
Okay, well, I just checked online and they are only $2.38!!!!!! And I also checked with the 3 stores surrounding me, and
THEY.
ARE.
ALL.
OUT!!!!!!!!
Horrors! What is with people these days…snatching up all the great deals before poor little me can get to them? How will I ever be able to celebrate Valentine's Day without this garland???
(oh wait, I already did) 😉
heehee, well I hear Target has some smokin' hot clearance deals, so I may have to peruse those too. Happy deal shopping!!!
(Oh, and if any of you happened to grab this garland up before it was sold out, good for you. (said with a slightly bitter tone) I suppose I will have to start looking on February 15th next year instead of the 16th. ha ;))