Ridiculous, right? My title for this post? Maybe so. But that's beside the point.
The real point is this…
I have a little girl. She happens to have hair…quite a lot of it actually. I was so afraid she would be bald when she was born, so I had just counted on the fact that she wouldn't have hair…that way I wouldn't be disappointed. When my DR said, "I see a head of hair!" during my delivery – wow – that was some serious motivation to keep pushing. (Not that I would have stopped pushing if she had said "I see a bald head!!" But then, what DR would say that during a delivery?)
Anyway, that is beside the point as well.
Because of all her hair, I have lots of bows. And flowers. And ribbons. The truth is…probably 20 of her hair clips are floating around random places including my car, random parking lots, under couches, the grocery store, etc. (And another funny thing…remember the tree hair clip I made? yeah…she wore it once. And then I don't know what happened to it. ahhhh…at least I blogged about it before she lost it. hehe)
I was determined to find some method of bow organization. Before I went crazy with finding bows all over the house.
A couple years ago, I saw this idea of using an old picture frame to organize hair clips. I don't know where I saw that idea and I didn't keep track of it since I wasn't blogging then. But just know this idea is not original to me. So don't give me too much credit.
It all started when I found this frame at Salvation Army: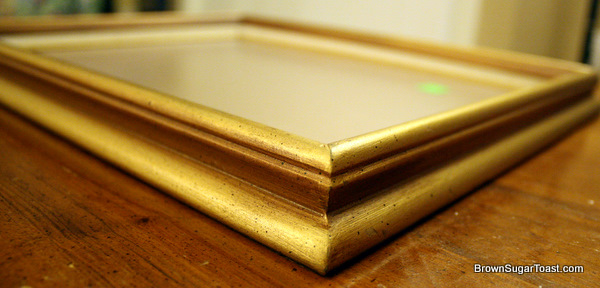 It was perfect. The perfect price, that is: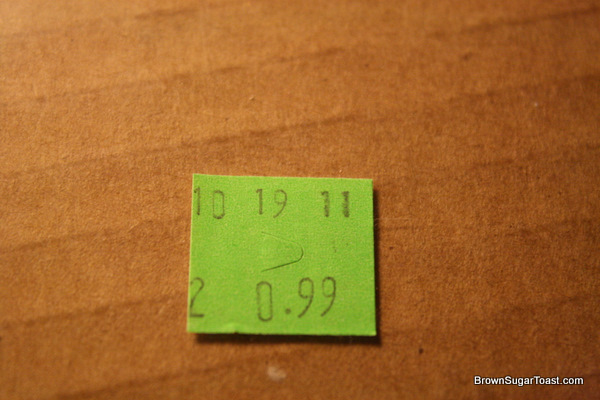 Hmmmm…99 cents? Yeah, I guess I can spring for that.
I debated for a while about painting the frame. I thought it would be cool to paint it a bright color with some fun fabric. But the more I thought about it, I really liked the idea of just leaving it the gold-ish tone.
So instead of painting it, I just grabbed some fabric from my basket: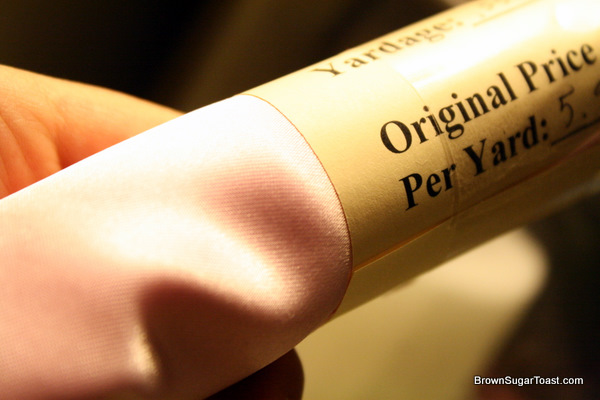 A light pink satin.
I tell ya, you have got to shop the remnant section at your local fabric store. Just make sure you don't become one of those people who always buys craft supplies but never does anything with them. Then you might end up on one of those gross hoarder shows. Remnant bins can be quite addicting.
There. Don't say I didn't warn you.
Open up the back of your frame.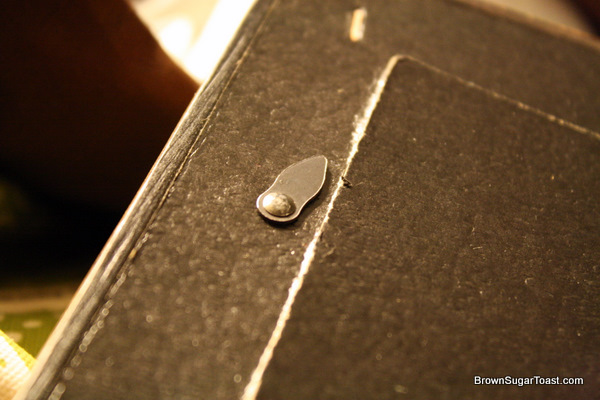 Now, my frame had a piece of cardboard in it as well as a cheap-o plastic piece in place of the glass. I didn't need the plastic piece so I threw it away. Actually, come to think of it…I might have put it in my craft pile. You never know when you might need a cheap-o plastic piece to use for a project. This is also the reason I have a random 2×4 in my closet. Do I ever do woodworking? noooooo…and yet I cannot bear to throw it out because I'm sure one day I will need it.
For something.
Important.
Ahem.
Take the cardboard piece and cut a piece of fabric with an extra inch or two of overlap around all 4 sides.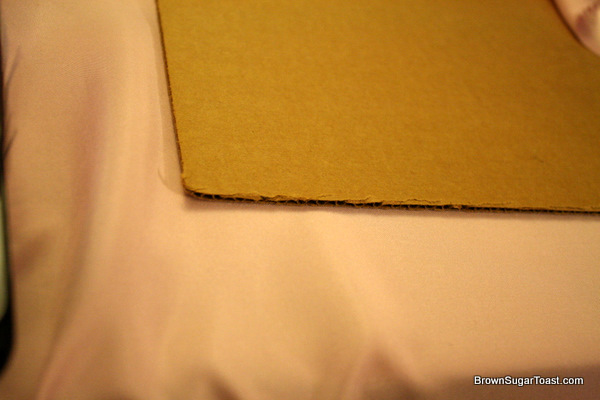 Then fire up your hot glue gun and start gluing the fabric down on each side.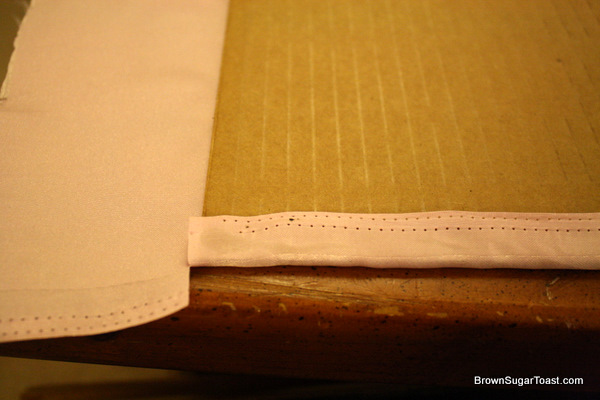 See how I cut the corner there? That allows you to get a nice look at the corner.
Make sure you get a tight fit with your material so you don't have a bunched up look when you turn your cardboard over.
Voila. Satin part done.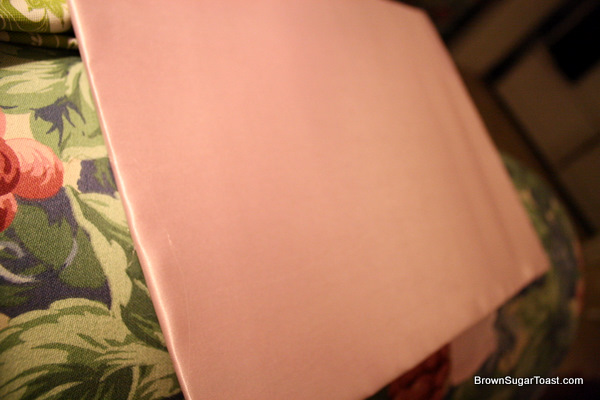 Now grab some random ribbon. I chose white.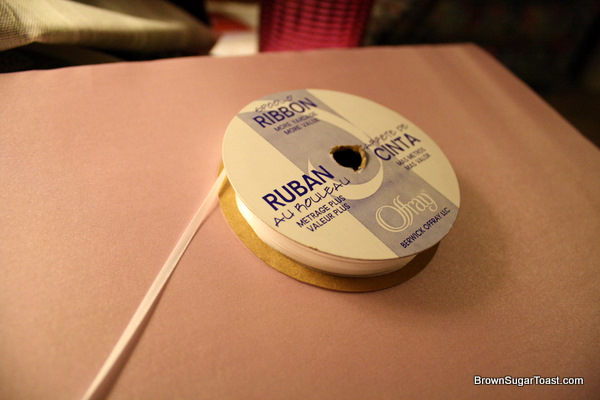 Decide how far apart you want your ribbon to be. I decided based on the approximate size of the hair clips.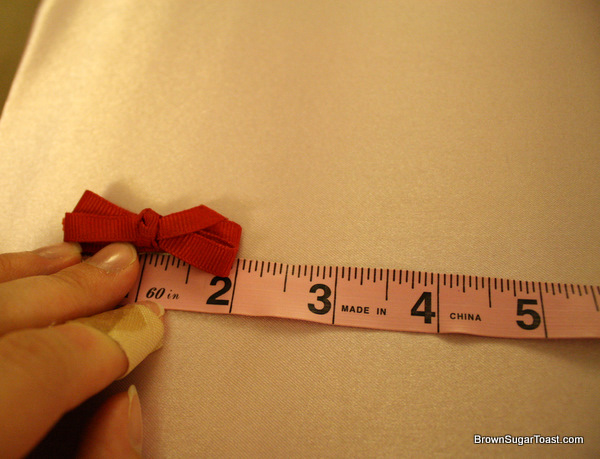 (Like the band-aid? I thought you would think that was special. I'm such a Martha, aren't I? I know, I know. Save the compliments for the comment section.)
The hairclips are about 2″ wide, so I decided to put my ribbon approximately 2″ apart.
The height of my frame was 13″, so I cut my ribbons about 16″ long to give plenty of room to wrap around the edges of the frame.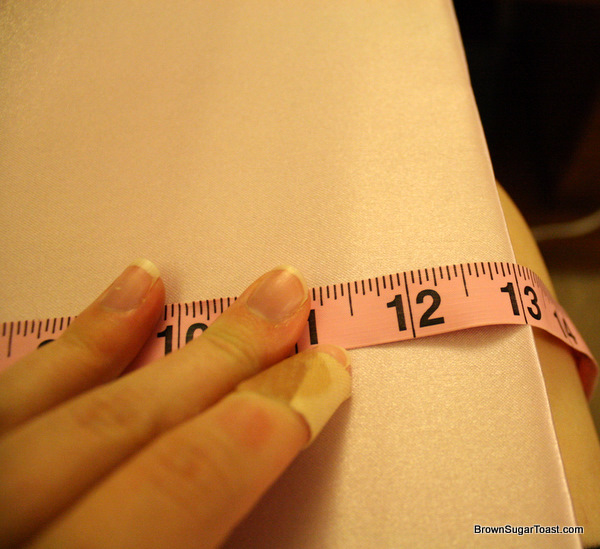 Next, I marked out the places to glue the ribbon…every 2″ apart on the back of my cardboard. That sentence doesn't make much sense. Just look at the pic below:

There. See those little pen dots above the 6″ & 8″ mark? That's so I knew where to put my ribbon.
Squeeze out a healthy amount of hot glue onto your pen dot and affix the ribbon to it. I put a little blob of hot glue on top of the ribbon too. Just to make sure it would stay. Obviously, my trust in the power of hot glue is somewhat limited.

Now turn it over and admire your handywork. Or in this case, admire mine: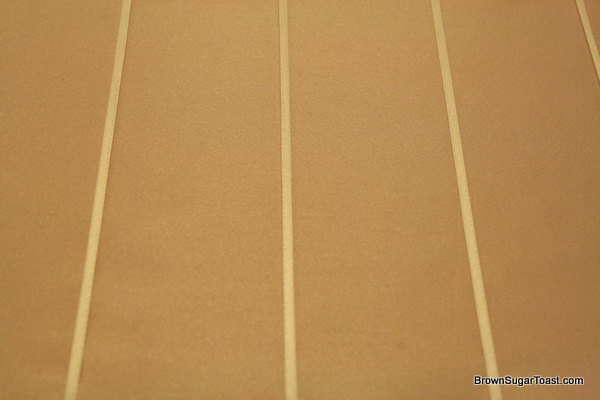 Hello, you beautifully straight lines.
Hang it up, attach your bows, and rejoice that you finally have an organized way to store them!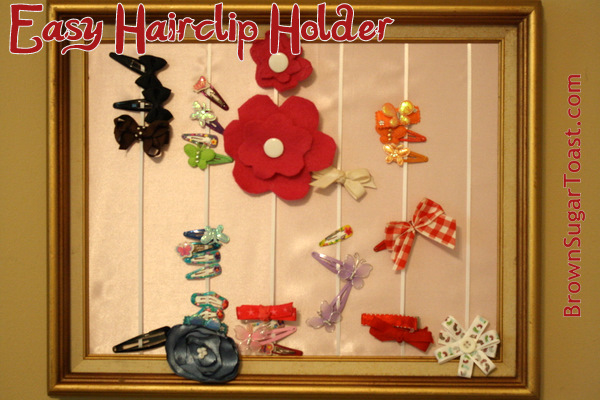 Linking up to:
http://diyshowoff.com/
http://www.thegirlcreative.com/
http://jembellish.blogspot.com/
http://www.homestoriesatoz.com