Since the great purge of '14, I've been much more intentional about the 'stuff' I allow into our home. I even avoided the clearance endcaps at Target the other day. Now that's dedication.
I've been greatly intrigued lately by the idea of a capsule wardrobe. I first read about it here, but the idea originated from Un-Fancy.
Basically, the idea is that you think through your wardrobe for a specific season, buy what you need to fill it out, and then don't buy anything else for the rest of the season. Oh – did I mention you can only have 37 items?
You might think it sounds cuh-razy. And I did too at first. But the more I've thought about, the more it really appeals to me. You see, it goes along with being intentional about stuff. Instead of just buying a piece of clothing because "I like it!" or "it's only 2 bucks!" I'd actually be buying something with forethought. Plus, if you're like me, you probably have your favorite clothes that you wear over and over again instead of wearing everything in your closet. So, doing a capsule wardrobe would be like picking only your fave pieces to wear each season.
I haven't committed to the whole capsule wardrobe idea for this fall. But I have been thinking through my closet. And last month, I went through everything in my closet and got rid of at least 20 things. (sidenote: the fact that I can get rid of 20 things in my closet and never miss them is…ridiculous.) Some of the clothes didn't fit. Some were from high school. All of it got put in a 'donate' or 'trash' pile.
One thing I am trying to do is to go through my closet and think through pieces I would like to get. I can't call these essentials. Because really, as long as you have clothes, you've got the essentials covered. Buuut, I'll call these items that I would totally put on my Christmas list. Except for the fact that some of the items shown below are insanely expensive. So I plan to keep my eyes open for replicas. I'll letcha know what happens with this great search.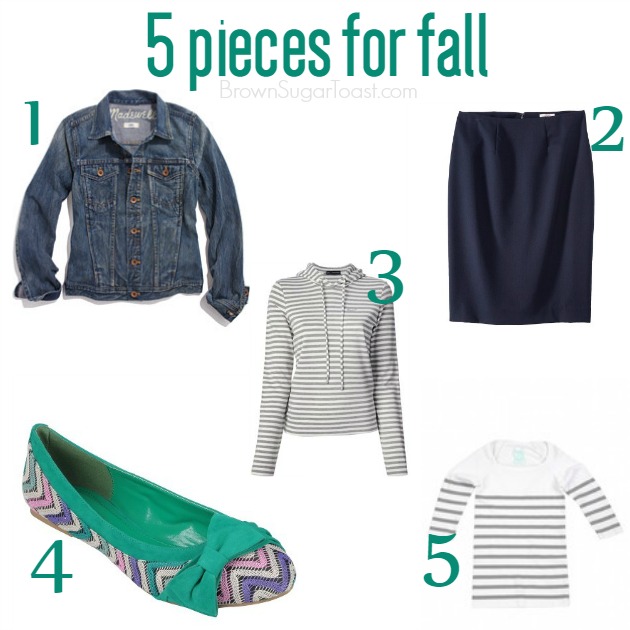 1 :: 2 :: 3 :: 4 :: 5 (not sure?)
A lot of neutrals, right? But these are some pieces that can be worn in so many different ways – especially 1, 2, & 5. The shoes aren't totally my favorite, to be perfectly honest…but I really love having colorful shoes to add a little pop to my outfits. Actually, I've been looking for red flats for a while, so I would be pleased as punch to find some this season. And #4…I have been prowling around for a cute, warm, squishy hoodie for a couple years. This one is uber cute. But it's also over $200. Let's just make a pact here – you and me – even if I randomly receive a massive inheritance from a long-lost relative, I promise that I will never spend $230 on a hoodie.
Maybe $229.
kidding. obvs.
So, there you have it. I'm going to be making a list of holes in my closet and attempting to not buy anything unless it's on the list. I'll let you know if I find all these items for killer steals. Deal? I'm on my way to an intentional closet.
p.s. most of the ideas for these pieces were from my Style board on Pinterest. Follow me?