A while ago, my friend sent me a recipe for brownies. I have a weakness for brownies, but this recipe turned me off and actually made my stomach turn.
Then, as I was browsing through my friend Kelly's blog, I came across a similar recipe. It caught my attention because of the way she described it – "To Die For." hmmmmm….and because of the picture she posted.
Would you care to know what made me squeamish?
It was the addition of a little ingredient called….
Well, why don't I just show you a picture?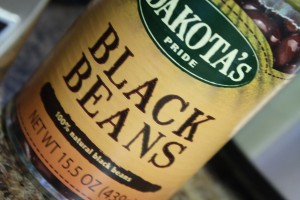 Now, I don't mind carrots in my cake (as long as there's a good deal of cream cheese frosting on top) and I actually like zucchini in my muffins. But black beans in my brownies? Noooooooo way. I like brownies to be good and chocolatey all the way through, not bean-y. 😛 bleaaahhhh
However, I gave it a try. The first recipe I tried was from this site. Final consensus: they were good – for black bean brownies. But if you want brownies, stick with betty crocker. Or whatever normal recipe you use that does not include black beans.
The reason I decided to give black bean brownies another try…my church was having a ladies' meeting (Hispanic style) and I had signed up to bring a dessert. Now, the only desserts I could think of were fried ice cream and churros. Since I do not own a deep fryer, I decided the next best dessert choice was…black bean brownies. 😉 So, off I went to try Kelly's recipe.
Here's what you'll need:
2 (15oz each) cans black beans, rinsed and drained
1/2 – 3/4 cup water
2 cups sugar
1/2 cup milk
1 1/2 cups flour
1/2 cup cocoa
1 Tblsp. baking powder
1 tsp. baking soda
1 tsp. salt
12 oz. semi-sweet chocolate chips
Directions:
After you rinse and drain your black beans, place them in the blender along with 1/2 cup water. Blend on high until smooth; add up to 1/4 cup water if necessary. I used my little blender: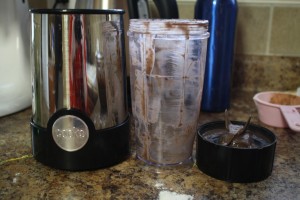 I added the milk in the blender as well because I wanted my "bean mixture" to be very smooth. Here's how my beans, water and milk turned out. See how there are no bean chunks? 🙂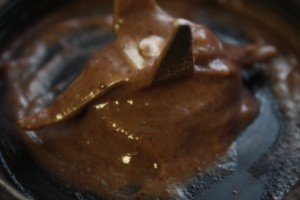 Add all ingredients except chocolate chips and mix well. Stir in chocolate chips. Mmmmm…drink in the rich, chocolatey goodness….. 🙂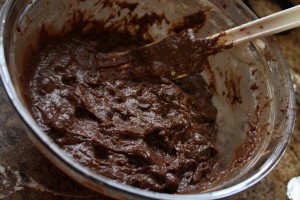 Grease a 9×13 pan. (I only made a 1/2 recipe because I only had 1 can of black beans. Thus, the 8×8 pan pics.)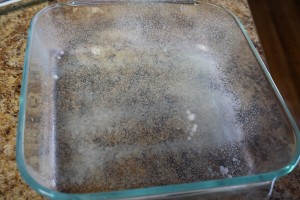 Spoon batter into pan.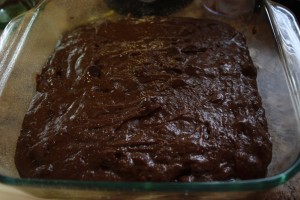 Bake at 350 for 25-35 minutes. Kelly said her brownies were done around 30 minutes – mine were too. So, maybe check yours after 25 minutes (just in case), but plan on them baking for 30-ish minutes.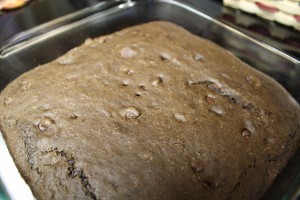 Oh. Wow.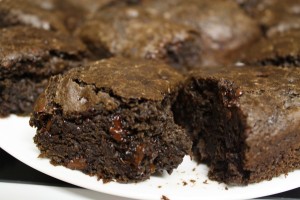 As if that weren't enough…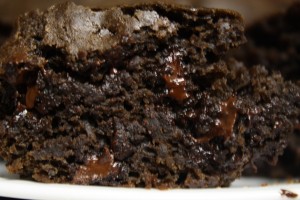 Okay, now do you understand?
I thought I'd let my little girl try some. I mean, there's black beans in them. They've gotta be a little healthier than your average brownies. (despite the high sugar content) 😉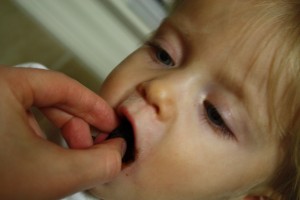 She likey. 🙂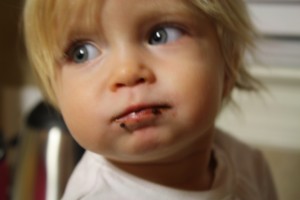 May be thirst-inducing. Make sure to have some milk nearby.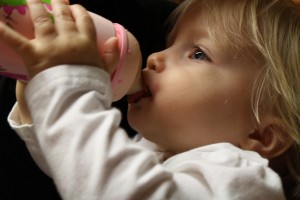 I tried them and got chocolate on my lips too. So technically, I could have taken some pictures of myself like the ones above.
Somehow, its just not cute when an adult has food on their face. So I decided to spare you.
These brownies are best when they are fresh out of the oven. You would never believe there are black beans in them. They taste amazing. Chocolatey. Gooey. Not the least bit healthy.
That's my kind of brownie.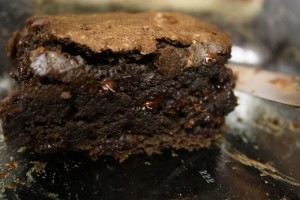 Thanks, Kelly, for your yummy recipe!
So…what do you think? Are you still grossed out by the idea of black bean brownies? Or did these pics win you over?