Every week, Jonathan and I try to schedule a date night at home.
That means, we put the kids to bed a little early and do something together. (talk, play a game, watch a movie, etc.)
I always like to have something special to eat on home-date-nights. On this particular night, Jonathan volunteered to make the cookies using one of our fave chocolate chip cookie recipes.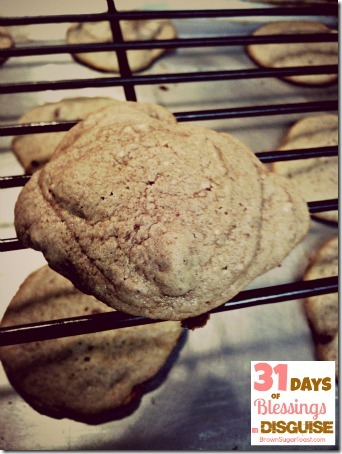 After we tried the cookies he suggested I use them as one of my blessings in disguise. Unfortunately, they didn't make it to my "top 10 recipes" list. Or top 100, for that matter.
Yes, unfortunately, there were quite a few additions (tablespoon of salt instead of 1/2 teaspoon), subtractions (baking soda), and substitutions (wheat flour instead of white) goin' on in these cookies.
The blessing? I only ate 3.
Just imagine how many I would have eaten had they been made with the correct ingredients and proportions.
Never mind, don't.
Okay…you can stop imagining now.

Missed a day? Find all 31 Blessings in Disguise right here.