Hello all! I hope you had a great weekend. We sure did.
I went to 2 yard sales on Saturday – they weren't the best in the world. One of them was advertised as a "Multi-Family Yard Sale in Millionaire neighborhood." They said they had pottery barn decor and kids' stuff, so I went with high hopes. Unfortunately, they were asking millionaire prices for their yard sale items, so…I didn't get much there. $20 for a baby outfit? hmmm…I don't think so. 😛
Anyway, on Friday I told you that I had been working on a non-relaxing project all week. The truth is: it really shouldn't have taken me all week. I definitely wouldn't have won an award for safety or speed during this project. I'm sure most of you could have probably knocked this project out in an hour. But hey – what matters to me is that
it's done.
my hubby didn't have to do it.
I'm still alive.
🙂
So, now that you have the background…here's what I started with:
This lovely window in my living room: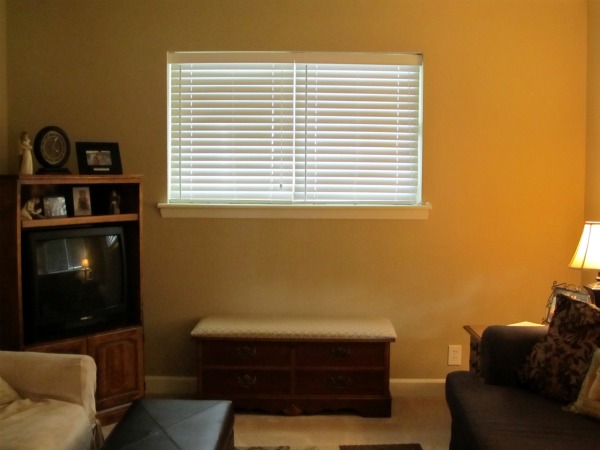 and this one: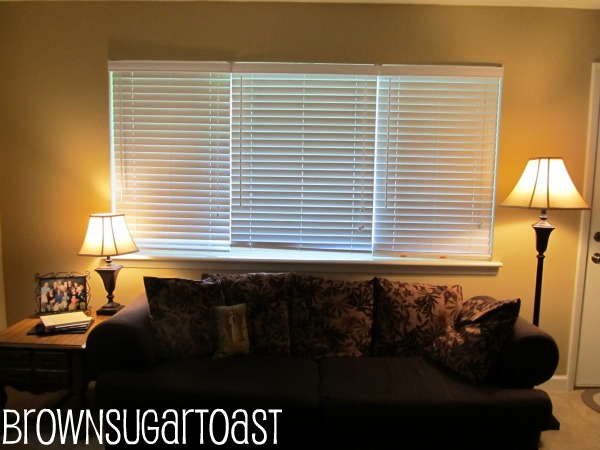 Lookin' a little nekked, eh?
I went to Ikea and bought some curtain rods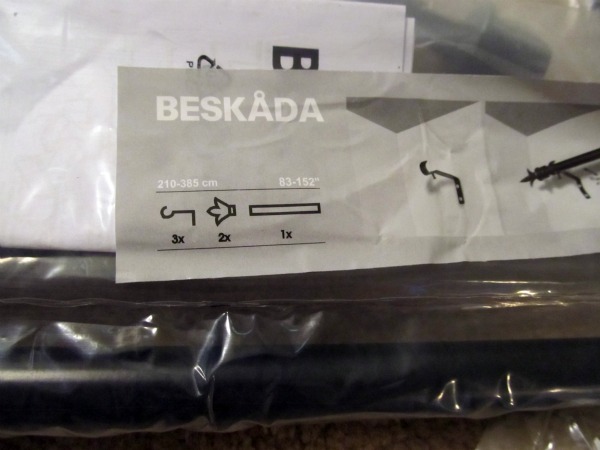 a few packages of curtain rings: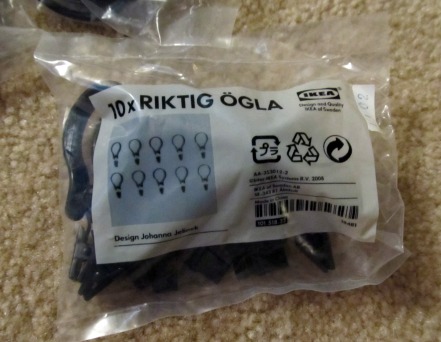 and, of course, some Ritva curtain panels: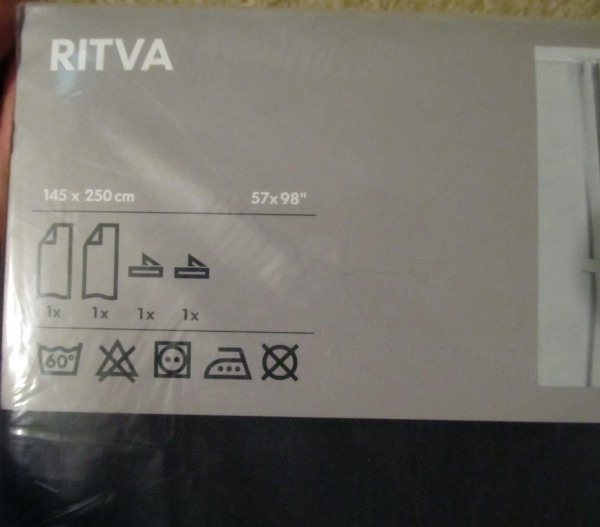 By the way…if you need curtain rods, Ikea has some great prices on theirs. I went to Lowe's and the cheapest they had for my long window (over 100″ long) was somewhere around $50. I was about to call it quits after I saw that. But then I went to Ikea and they had curtain rods (83-152″) for $7.99!!! Score!!
So, here's what I did. As a general rule, hang your curtains higher (most people hang them 4-6″ higher) and wider (totally depends on your window. I did mine 8″ wider) than your actual window. That way, the curtain is still present and functional, but it doesn't obstruct the entire window.
I started out by measuring and marking where I wanted to screw in my brackets. So 6″ above and 8″ wider than my window. then I just screwed the brackets in. simple as pie.
Only pie is not simple.
And of course, I found a way to complicate this project. Because my measurements weren't quite exact. And, of course, I didn't use such modern conveniences available (like ladders). No, I decided to stand on furniture instead. I know. Safety police, come arrest me now. Just picture preggo woman heaving herself up on a chair stacked on top of a couch. That's why I made those earlier statements: 1) I don't win a safety award and 2) I'm glad I'm still alive.
Besides all that…here's what I ended up with: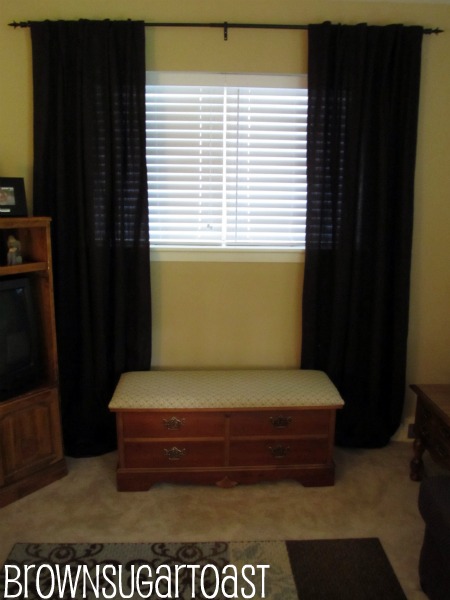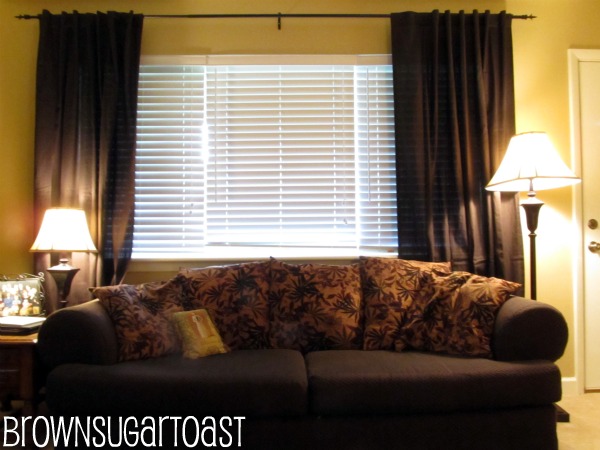 I'm not a big fan of the brackets hangin' out in the middle of the curtain rods. But I am a big fan of my curtain rod not coming crashing down on me or my family at some crazy moment. So the brackets remain.
You may notice that I didn't use the curtain rings/clips? I put them up, but they really didn't look that great. They were kinda oval shaped instead of true circles, and it just left too much space between where the rod ended and the curtain began. And my hubby agreed. So down came the clips.
And that, my friends, is the fun project I worked on last week.
What have you been working on lately? Any adventurous spray painters out there? 🙂
Linking up to:
Under the Table and Dreaming