I told my husband I was writing a post about perfect gifts for your valentine.
His response?
"I better go read that post!"
But no, actually.
Because the items below are not things I want, but rather things we already own and greatly enjoy. These are tried and true favorites we use during home date nights, road trips, and day to day. So if you're looking for a gift that won't get stuck on a shelf for a few years until it's eventually sold in a yard sale, I suggest one of our favorites below…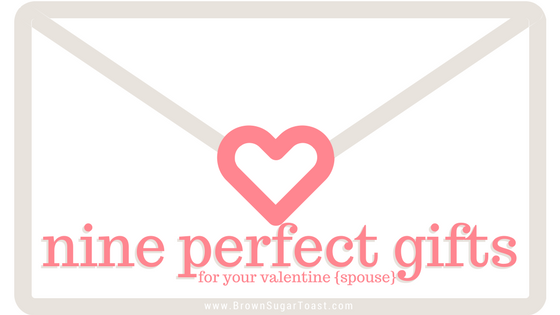 click on the picture or description for the link!
Conversation Cards – we use these on road trips, date nights, and just bought a pack for our recently married friends. We've talked about things we wouldn't normally think to bring up like, "Name a marriage you admire and why." Solid.
2. Handheld Massager – this is a great little tool because it doesn't make your hand cramp when you use it to give massages. Give this to your spouse along with a certificate for a massage and make their day! (one minute if you're feeling stingy. ten minutes if you're not.)
3. My Favorite Marriage Book – Jonathan and I have read several marriage books together, but this is by far my favorite. We give this away at almost every wedding we attend. Here's a list of some other marriage books we've read. And a marriage book review by my husband—the one time he guest-posted on Brown Sugar Toast! His rates were too high for me to have him on regularly.
4. Lovely smelling candle – a friend gave us this candle a couple years ago and since I'm a terrible candle hoarder, we still have it. I light it approximately once every other month because I love it so. At this rate, I'll still have it in 2028. But it smells so goooooood!
5. Mini Skillet – we just gave one of these away too, along with a recipe for this mini skillet cookie. Does this seem out of place on this list? Maybe. But I'll explain. This little guy makes a perfectly-sized skillet cookie to enjoy (with ice cream, obvs) during our home date nights.
6. A favorite game – two of our favorites for date nights are Boggle and Guess Who.
But I feel like Twister would also be an excellent option. Ahem.
7. Matching pizza shirts – because obviously, we need these to have a quality marriage. (Proof we actually own/wear them.)
I also appreciated these donut/coffee & bacon/egg options. But in the end, I went with the pizza shirts because we both definitely love pizza.
8. Electric Blanket – this blanket was a recent purchase due to both of us having frozen feet at night. We are fans. Major fans. The best thing is when you turn it on about ten minutes before you get in bed and then are surprised with delicious warmth. Ahhhh.
9. Date Night Certificate – Plan a date your spouse would enjoy! Go learn something new together (go to a shooting range, take a cooking class, try ice skating like we attempted last week) or pick an activity you think they'd love.
If you don't think your spouse would enjoy a night out, plan a special night at home. Jonathan and I do this all the time (here's how we make it happen).
And that's it! 9 of our favorite things!
What are some of yours? Tell me what to add to my list!