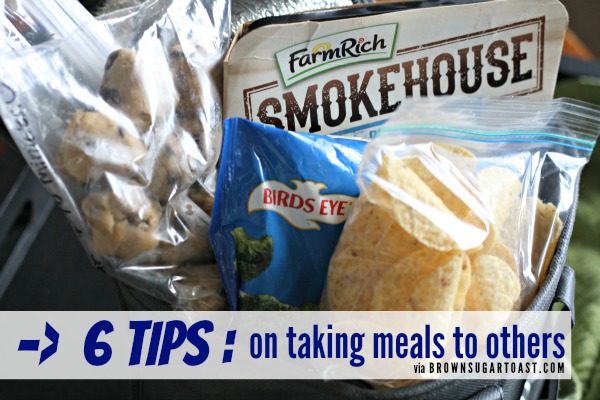 As a new mama, one of the very biggest blessings was when someone would contact me and say, "I'm making you a meal. When can I stop by?"
First of all, let me just kiss your feet because food has always been one of my big stress points after having babies. YOU MEAN I'M SUPPOSED TO HAVE A BABY AND MAKE DINNER??? Yes. Apparently that's how it goes per the wonder women who lived before us. And while dinner making does eventually happen after baby's arrival, I always felt such gratefulness every time someone took time to bless my fam with food.
So culling from personal experience, here are 6 tips on taking meals to others. And by the way, I've learned all of these tips from my awesome friends who have brought me food over the last years. Thanks for showing me how it's done!
1. Check for allergies/food preferences.
Goodness, these days I find that's almost a scary question to ask because of the range of food allergies! But it's always best to check instead of making something they can't eat. And if the allergies are so severe you just have no clue what to bring, I've discovered a grocery store gift card is an easy solution. Easy on you and helpful for them because they can get exactly what they need.
2. Use disposable containers.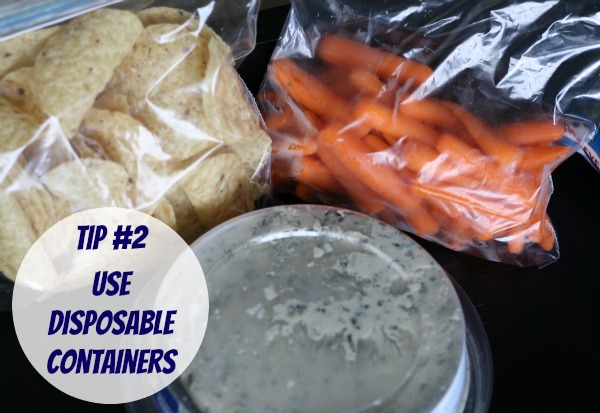 Not necessary, but when you put things in something they can toss later, it's just such a blessing for them not to have to keep track of your glass dish until they next see you. After Miles was born, a friend came by and put soup together for me in MY crockpot so I wouldn't have to return anything! And another friend brought salad inside a food storage bag so I could just toss it afterwards. So creative & thoughtful, right?
3. Drop it off at a convenient time/place.
Is it easiest if you drop it by their home? Usually, I've found that's what people prefer, but sometimes I've had people who prefer to send a family member out to grab the food. Whatever works! Just make sure to check about timing before assuming – especially if there's a napping baby/mama involved!
4. It doesn't have to be homemade.
I love homemade food. But I had a friend bring me a rotisserie chicken from the grocery store and it was totally delicious. Plus we had leftovers for the next day. Two meals in one! Double win! A sweet lady from my church dropped off KFC after one of my babies was born and Anna Grace declared it was the best food she'd ever eaten. All this to say, if you don't feel confident in your cooking skills or maybe you're just running low on time to spend in the kitchen, don't let that keep you from offering a meal.
5. Dessert isn't always necessary.
I know I may get shot for suggesting this tip. And you all know how much I love my sweets. But just consider either not bringing dessert – or if you feel you must, just bring enough servings for however many people are in the family. Because honestly, it's hard to exercise restraint when there's an entire pan of delicious brownies sitting there for just you and your husband. But your husband's away at work. And you're emotionally + physically exhausted. And so you eat 90% of them and then whine to said husband about needing to lose the baby weight. Not that this has ever happened to me, of course, but yes it definitely has.
6. Consider bringing food that can be eaten later.
I really never gave this idea much thought until a couple people provided it for me. One friend brought me a homemade frozen lasagna. We were in italian heaven with that meal. And another friend made me a cake mix in a bag with directions on what to add & how long to bake. Both options were amazing because I just saved them until we were in desperate need of lasagna + cake and then voila – easy + delicious food! I told you I have incredible friends.
So drawing from the thoughtfulness + creativity of others, I put together a basket of food for a friend. And when I say "basket" I really mean "insulated bag."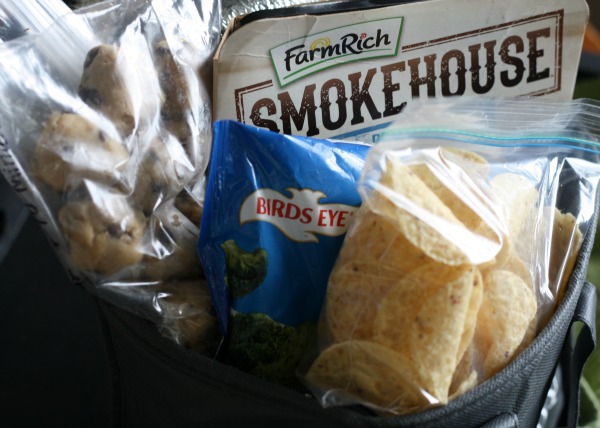 My kiddos and I made a Walmart run and grabbed a couple things to fill out this meal: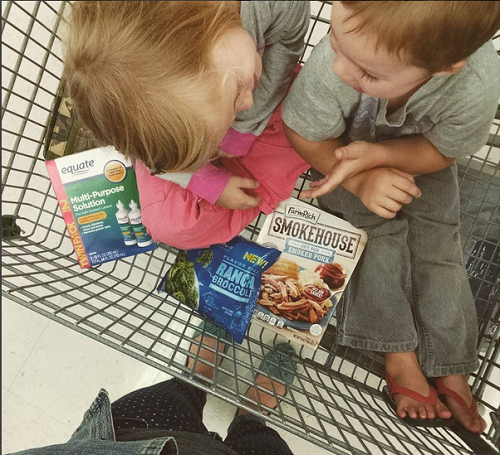 …specifically, some Birds Eye broccoli + Farm Rich® Smokehouse pork – both frozen items so they can eat them ASAP or even in a few weeks.
I decided to grab the smoked pork that wasn't already coated in sauce. There are so many different opinions on BBQ sauce and I didn't want to ruin their meat by picking a sauce they didn't love.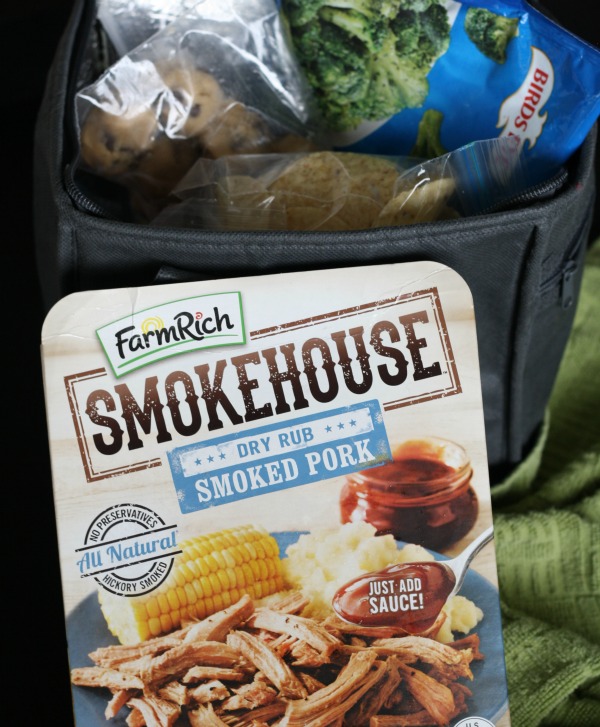 And we got the ranch broccoli because it seemed like it would be yummy with the smoked pork…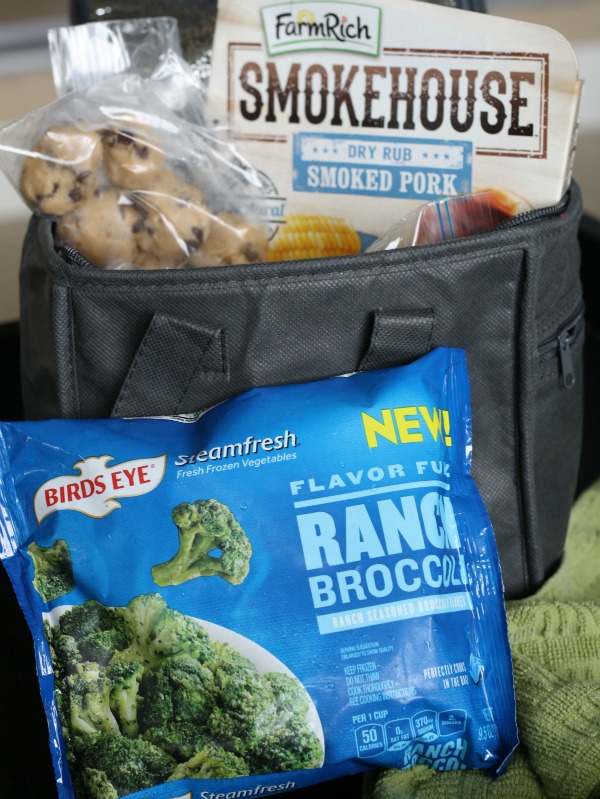 And just a little $ saving FYI for ya…you can earn $0.75 on Birds Eye Vegetables or unlock $1.00 off one Farm Rich Smokehouse  product with Ibotta while supplies last. If you haven't used Ibotta, you have to download the app available on iOs and Android. Before you shop, be sure to unlock the rebates for both Birds Eye Vegetables and Farm Rich® Smokehouse. Then, shop! Buy the products that you've unlocked at major retailers. Finally, verify your purchase by scanning your barcodes and submitting a photo of your receipt!
We also snagged a spinach + parmesan dip so they could have something snack-y, then popped some chips + carrots in bags as dippable items.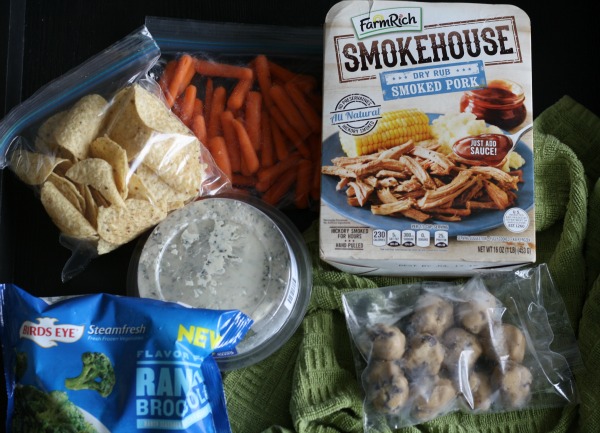 And you know me – I couldn't resist including some dessert. However, I tried to follow my own advice and not go overboard like I have many times before. Instead, I popped some frozen chocolate chip cookie dough balls into a bag. That way, I figured they could make them all at once or just a couple at a time if they're feeling very self-controlled.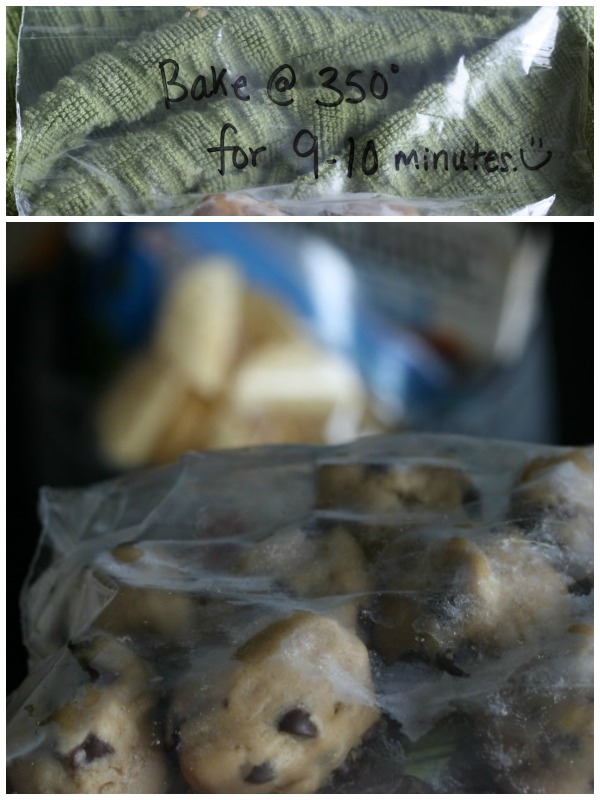 Now all that's left is to deliver it!
The point behind bringing meals to others is just to be a tangible blessing. And really, you know your people and I don't, so if any of these tips wouldn't apply to them, just do what you know is best for them!
Happy meal giving!
P.S. Our Life. Intentionally. 31 day series is going strong!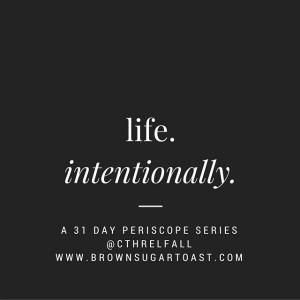 We're on day 6 today and I've actually progressed out of the super scared phase. Shocker, I know. You can grab all the videos right here except for last night's because I accidentally recorded it on Jonathan's periscope account. Bummer. However, you can watch last night's here just until tonight at 9 PM, so get your watch on and get ready to laugh. Because my husband is a fun + funny guy.
This post is part of a social shopper marketing insight campaign with Pollinate Media Group®, Birds Eye®, and Farm Rich® but all my opinions are my own. #pmedia #FullnRichFlavor  http://my-disclosur.es/OBsstV