Hi! Diana here, from Saving by Making.
I'm so thrilled to be able to help Christa take her maternity leave without letting her blog just go un-updated for awhile! 🙂
Over at Saving by Making I blog about ways to save time and money by making things yourself.
Freezing your own fruit is a great way to save money: when you buy it in season, it's much cheaper than any other time of the year. Having a stocked freezer also saves you time: you'll be able to choose items from your freezer instead of making that extra trip to the store! Yes, it takes a little more work now, but it pays off in cost, time, and even health benefits. 🙂
It's apple season! Even though apples aren't as juicy-sweet as peaches and strawberries, their crisp tartness is always refreshing after a long summer of berries and stone fruits. They go so well with cooling weather and bonfires and they pair perfectly with all those autumn spices–cinnamon, nutmeg, cloves, ginger, and allspice.
Apples are great for fresh eating and it's easy to can or freeze applesauce, but did you know that you can freeze plain apple slices? For the last two or three years we have bought several bushels of apples and I've frozen several gallon bags full of sliced apples. They're always gone before the next apple season comes around!
Note: if you're going to preserve lots of apples, you need one of these
!
It makes such fast work of the apple peels and cores. Totally worth the $20 price for a new one, but you can probably find one at a thrift store or garage sale too.
How do I use these frozen apples? Let me count the ways 😉
Applesauce
If you need a low-prep side dish, you can pop the frozen apples into a pot, cook for 30 minutes or so on medium heat, and you'll have a nice pot of fresh homemade applesauce. The peeling and coring was taken care of already, and the soft, frozen apples soften quickly for easy mashing.
Apple Crisp
I put around 6 cups of apple slices into one-gallon bag, and that's the perfect amount for a 9 x 13 pan of apple crisp. Already-prepared apples make this dessert super fast to throw together. And you'll get a yummy, all-natural air freshener that wafts through your house as it bakes! 😉
Apple Cake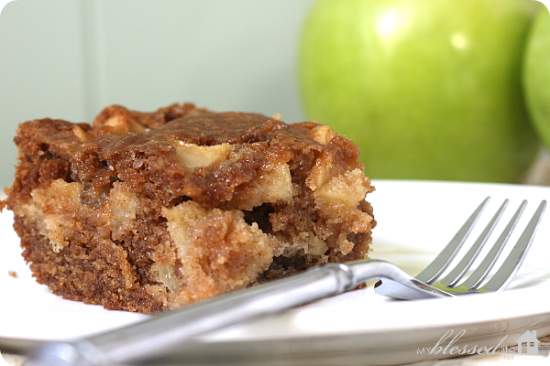 This fresh apple cake is amazing. It's quick to mix up, tastes great, and lends itself to all different kinds of toppings (icing, vanilla or maple glaze, caramel sauce, etc.). It's a crowd-pleaser every time I take it somewhere. (The batter is yummy too… 😉 )
Mini Apple Pies
These miniature apple pies are great for a small family who couldn't (or shouldn't) eat an entire pie! You make pie filling with the frozen apples by cooking apples, spices, sugar, and cornstarch and then you fill small pieces of crust, crimp, and bake.
Smoothies
Ever had a caramel apple smoothie? To make dairy-free caramel (so my little guy could indulge too!) I boiled sugar and water until it turned brown (that's caramel). I stirred in extra water (careful! it sputters!) and had caramel sauce! I put one frozen apple, one fresh apple, and a splash of apple cider into the blender along with some of the cooled caramel sauce. Amazing!
Frozen apples actually work great for any smoothie. Be sure to add plenty of other flavorful fruit–peaches, strawberries, cranberries, or cherries–along with a strong-tasting juice like grape or orange.
So grab a bushel of apples, get slicing, and fill your freezer! (The apples will brown slightly in the freezer, but that's okay because they would brown anyway in the sauce, crisp, cake, or pie. Smoothies have enough other colors to hide the brown, and it doesn't affect the taste.)
Sign up for the Read. Think. Learn. newsletter!
(What is it? All the details here!)