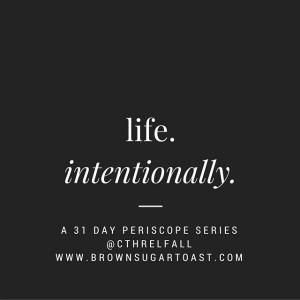 Well, my friends, another 31 day series has come and gone. And although I've written 3 other 31 day series, this is the very first series I've done via video. Initially, I told you that my main feeling was fear. So how did it all end up? What did I learn from periscoping every single night in October?
31 days is a long time to do anything. Especially something you're scared about doing.
I was insanely uncomfortable on video 1. Insanely. But by video 29 I felt so comfortable that I was spewing random gross things about how I fixed my hair. Somebody take her away from the camera.
I have an incredibly awesome + supportive husband.
As I stated at the beginning, sometimes it's good to do things that scare you. So it's new? Try it. So it will be hard? Push yourself. And at the other end? You'll have learned something new about yourself + whatever new thing you just tried. hashtag winner.
Whether you watched ZERO Life. Intentionally. videos or 31, I would really love your feedback about the series. I tried to make it super easy for you by embedding the survey below. In addition, if it's not loading for you, you can click here to answer an uber short, 5 question survey. So take 40 seconds and give me your thoughts, pretty please?
Here it is:
Thank you, dear ones!