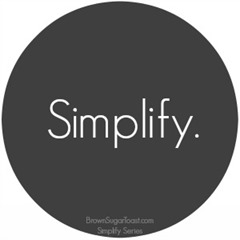 We talked about breakfast + I gave you my simple granola recipe yesterday. Let's move on the next meal of the day: lunch.
For all of you who either stay home with littles or have access to a microwave at work/school, this suggestion is for you:
Make 2 meals in 1.
And that means?
Make extra for dinner so that you have enough for lunch the next day.
This is what we do for lunch 91.7% of the time. The other 8.3% (give or take a number) is what happens when we run out of leftovers. In which case I usually make sandwiches, a snack lunch (cut up fruit, veggies, and a boiled egg or two….this happens to be my kids' favorite type of lunch!), or quesadillas.
Eating leftovers for lunch is awesome because:
you save time preparing another meal. just heat & eat!
you save $$ by eating what you already have instead of making more.
Also, I find that when we eat leftovers for lunch, we're generally eating healthier food (veggies, grains, etc.) because I'm not just slapping peanut butter and jelly on bread and calling it a meal. Nothing against PBJs because they're pretty tasty.  Buuuut let's face it…veggie chili is a whole lot healthier & tastier!
So, give it a try! Next time you make dinner, make extras for the next day's lunch. Tell me if it works to simplify lunch for your family!
This post is part of the 31 day Simplify Series.
To stay connected, sign up for email updates or find me on facebook!
Did you miss a post from this series? Click here to see them all!