This was not the recipe I was planning to share today. I was actually planning to share … well, that will have to wait until next week. 😉
I made this recipe last night and it was so tasty I just had to share. It's the perfect summer appetizer! Or you can eat it as a side dish like we did.
We all loved these! I made a full recipe (yields 20 slices) and there are only 2 left. Let's see…2 adults, 1 toddler, 20 slices…I'll let you do the math. 😛
Basically, you mix together a cheesy concoction and spread it on top of a tomato slice.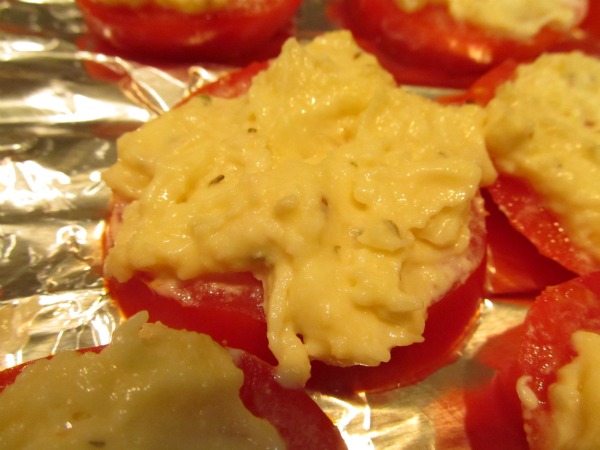 Then broil it for a few minutes and voila – you've got yourself an awesome app: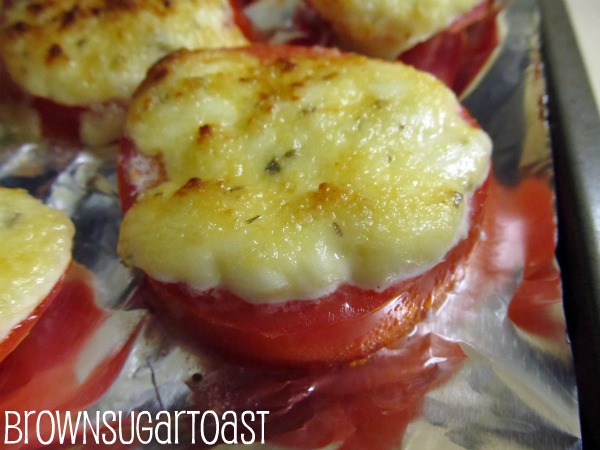 Oh.
Oh bliss.
Since tomatoes are the main star of the show, I wanted to share this with you while it's still summer. I got it from my Simple & Delicious magazine and followed it exactly – well, except that I didn't have any ricotta cheese on hand. Bummer. So that's why I called it 3 or 4 cheese. 😉 I'm sure it would taste even better with the ricotta and plan to make it like that in the future. However, it was amazing just as it was too…as evidenced by the 2 scant slices left. 😉 So without further ado, I present to you:
3 (or 4) Cheese Broiled Tomato Slices
from Simple & Delicious magazine July/Aug 2009
1/2 cup grated Parmesan and Romano cheeses
1/2 cup shredded part-skim mozzarella cheese
1/2 cup ricotta cheese 😉
1/2 cup mayonnaise
1 Tbsp. dried oregano
1 tsp. salt
1 tsp. minced garlic
4 large tomatoes
Cut each tomato into 5 slices.
Place on a baking sheet (I lined mine with foil first so clean-up would be a breeze).
In a small bowl, combine remaining ingredients.
Spread each tomato with 1 Tbsp. cheese mixture.
Broil 3 inches from the heat for 3-5 minutes or until cheese mixture is golden brown and tomatoes are heated through.
Note: my broiler has a setting for high/medium/low. Next time I make these, I'm going to set it on medium instead of high so that this won't happen: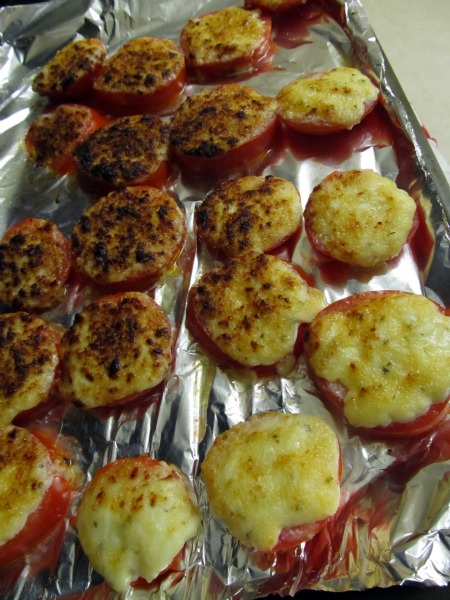 Just keepin' it real. 😉
So now you know they have to be good – for us to eat 18 of them when some of them were … um … slightly cajun. 🙂
I highly recommend this recipe to you. It smells, looks, and tastes delicious. This was definitely a husband-pleaser recipe. So if I make these and bacon…wow…I'll be a good wife.
Enjoy!!
Linking up to:
Keeping it Simple
Making the World Cuter
It's So Very Cheri
CRAFT
Craftomaniac